do u actually believe in good lucks??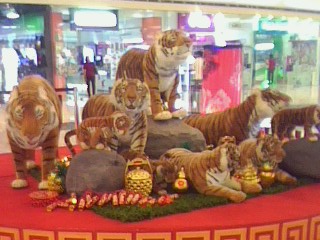 Philippines
February 22, 2010 8:31am CST
like in the chinese traditions, they actually believe that year of the tiger brings luck to those persons born with the same year as well as persons born in the year of the pig, rabbit, dog and rooster.. so for you, do you believe on it??
3 responses

• France
22 Feb 10
Hum, i don't know to believe it or not but my mother tell me a story about bad luck: if this year is tiger year so people who is tiger would have a bad evenment this year and it's a little "true" because she knows some people who always had bad evenments like they get a divorce, their house has burned, ect... Exactly on the same year of their chinese animal. Coïncidence?

• Philippines
22 Feb 10
coincidence?? hmmm?? maybe true..maybe not..but then again sometimes what we think will happen, comes true..

• Philippines
22 Feb 10
i dont know if it really true or not coz what happened to us is already listed in god's hand and it was him who only knows about our life. and whatever happened to us, it happened with a purpose. those goodluck are just make us feel comfortable and safe thinking we will be fine with those lucky charms. its on the way we believe on ourselves and how we face all trials in life.

• Philippines
22 Feb 10
yeah,,i think youre right on that one homeshoppers..sometimes good lucks just makes us feel nice about our selves and the way things are happening on our everyday lives..it is really god who knows about our lives and whats going to happen with it.. thanks for sharing me your answer..

• United States
22 Feb 10
Luck is a strange thing. There are circumstances that occur where we might think we are lucky. However, are we just really selling ourselves short? Could we really on some level be smart enough to position ourselves at the right place at the right now? I am inclined to believed that we are. Success happens because of our actions. Not because of any luck. We have to take our lives into our own hands. Whether it be success or failures, what happens is because of the actions that we take. What many see is good luck is just a combination of circumstances that work out in a favorable manner, because we were smart enough to take advantage of the situation at hand.