Keep Your Dog Out Of Your Convenience Store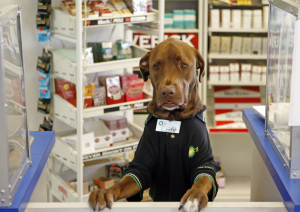 United States
March 5, 2010 12:03pm CST
Karim Mansour owns a convenience store in Clearwater Florida. Karim also own a chocolate lab that serve as the convenience store's mascot, I have a picture of him below. Karim's store does not serve any fresh food, only packaged food. Even though that fact, the Florida Department of Agriculture told Karim to stop bringing his dog to the store or they would declare all the food unfit for consumption.
4 responses

• United States
5 Mar 10
Since when did the Department of Agriculture have anything to do with food in a convenience store. A health inspector, I could understand, but not this.

• United States
5 Mar 10
Ridiculous! I think I read about this, is this the dog that everyone loves and looks forward to seeing? I think the government has entirely too much regulatory power. That dog isn't hurting anyone or anything. Our government needs the people to tell it to go to hell. We need to take away its funding (our taxes) so that it can't continue to abuse us this way. After all, WE are supposed to be the BOSS!!!!



• United States
5 Mar 10
And I wonder why my cat thinks humans are stupid.

This is ridiculous and I hope the local news up there gives this story some airtime. There's no legitimate reason that I can see for banning the dog from the store.