Tell me a joke.

United States
7 responses

• Pakistan
16 Nov 06
with due all respect i think instead of having similar topics lets post in one Topic for Jokes so that all the jokes remain in one Topic and ppl visiting that post can have a gr8 laughing time plz post all the jokes at http://www.mylot.com/w/discussions/224434.aspx

• United States
16 Nov 06
Patient: Doctor, Doctor I keep thinking I'm a frog! Doc: So what's wrong with that? Patient: I think I'm going to croak

•
16 Nov 06
An old lady says, "Doc, I've got an embarrassing problem. I fart all the time. But they're silent, and they have no odour. In fact, since I've been here, I've farted at least twenty times. What can I do?" The doctor says, "Here's a prescription. Take these pills three times a day for a week, and then come back to see me." The next week she comes in and says, "I don't know what was in those pills, but the problem is much worse now. I'm farting just as much, and they're still silent, but now they smell terrible. What do you have to say for yourself?" The doctor says, "Well, now that we've fixed your sinuses, we can start to work on your hearing."

• Malaysia
16 Nov 06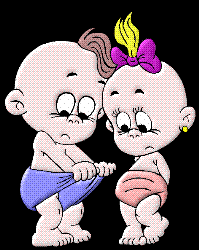 Don' t eat chicken sandwiches, no matter what..... A little boy and a little girl attended the same school and became friends. Every day they would sit together to eat their lunch. They discovered that they both brought chicken sandwiches every day! This went on all through the fourth and fifth grades, until one day he noticed that her sandwich wasn't a chicken sandwich. He said, "Hey, how come you're not eating chicken, don't you like it anymore?"She said "I love it but I have to stop eating it." "Why?" he asked. She pointed to her lap and said "Cause I'm starting to grow little feathers down there!""Let me see" he said. "Okay" and she pulled up her skirt. He looked and said, "That's right. You are! Better not eat any more chicken."He kept eating his chicken sandwiches until one day he brought peanut butter. He said to the little girl, "I have to stop eating chicken sandwiches, I'm starting to get feathers down there too!"She asked if she could look, so he pulled down his pants for her She said "Oh, my God, it's too late for you! You've already got the neck and the gizzards!!!