Do you like dragons?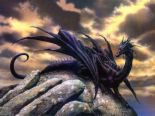 United States
November 15, 2006 9:05pm CST
I have this fasination about dragons. I have no idea why i do other then i have to watch all of the movies that they are in and i even save all of the pictures that i find and read all of the books that i can get my hands on about them. I love them that much. If you want any picuters of them then just click my name and save as many as you would like. I'm always looking for them and i have a lot more still not uploaded yet.
1 response

• United States
16 Nov 06
yup i lk themm....bt i dont hv a fascination as u hv....

• United States
16 Nov 06
thanks for your comment. i think that the reason why i enjoy them as much as i do is because the are centered around the middevil time period.