Did Clottey made use of his skills against Pacquiao today?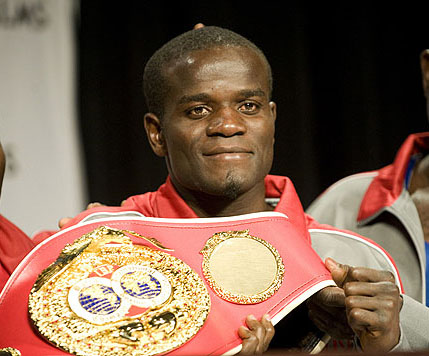 Philippines
March 14, 2010 4:33am CST
The Event is definitely over, it was unanimously decided in favor of the champion Manny Pacquiao. He totally dominated Clottey in 11 of the scheduled 12 round fight. It was an exciting side though not so action packed as compared to Manny's previous fight between Morales, Marquez, Dela Hoya, Hatton and Cotto. many expectators were expecting a multitude of punches coming from both fighters. We all know Manny can unleash a flurry of punches. Though Clottey is a formidable and deadly welterweight fighter and to think his a welterweight champion himself, could go toe-to-toe against Pacquiao however it didn,t happen at all. Clottey as foreseen by media has nothing to lose to this fight, he can be the toughest he can be and can clearly out match Pacquiao in height, weight and reach. We have seen him tell words of beating Pacquiao and can give an upset for the champ and shock the world. Few hours ago we saw the fight between the two fighters, but as the fight started till the end of round 12, it was clearly a Pacquiao show. People asked, "Where's Clottey, the challenger?". Yes Clottey showcased his armadillo like defense, invulnerable to Pacquiao's punches, but did he pursued Pacquiao's belt?, definitely a big "No". He was just standing in the middle of the ring retailing with one or two counterpunches and lots of glove hiding. He was supposed to be the aggressor, and the challenger who has nothing to lose and lots of respect and fame to gain if and only if he can upset the champ. Instead he acted like a champ who is defending a title, and Pacquiao was the challenger. He should have gone all out, and show the whole world he has what it takes to upset the pound for pound king. He has all the advantages, and I think he didn't use these skills well to his advantage. Even if he would eventually lose to Manny, he could have put up a good fight against him, and could have gone to a split decision like what Marquez has done, fight till the end and score as well. So to all mylotters, what do you think? Did Clottey gave all his best on the fight or not.
8 responses

•
14 Mar 10
hell0 there! I won't say nothing about the discussion, just want to say you, that it would be better if you change those avatar, because in many countries likefor example Germany and others too, it is forbidden and peope go even to jail just because they have it no their shirts or on their cars. and I actually don't think we should be proud of it, just because of this "Hackenkreuz" as it is on German, there were so many people killed! hope you agree with me


• Philippines
18 Mar 10
I think that Clottey already knew that he could never go toe to toe with Pacquiao and emerge victorious it was a tremendous opportunity for him and I think he just wanted to prove to the world that he can go 12 rounds with Manny

• Philippines
18 Mar 10
You have a point there too, I think he only tried and tested whatis like to be with Pacquiao inside the ring. He knew that Pacquiao's previous opponents were all victims of knockout's and Clottey wouldn't want to be next. he showed the whole wide world he can defend his butt against Pacquiao. But to no avail, I think he should have done much better since he has all what it takes to make a miracle upset. Maybe he could have made Pacquiao some serious problems during the fight even if he thinks he can't win over Manny. Do you think Clottey can somewhat rebound from this one-sided loss to Pacquiao? Can he really make his career more brighter and prove to the world that Clottey is not the same turtle fighter of March 14, 2010?

• Philippines
24 Mar 10
it would be very hard for him, promoters don't care about great fighters they just want real exciting fights to bring in the money. Clottey has to convince his next match-up that he won't just go into his shell the whole time of the fight


• Philippines
14 Mar 10
Hello there agmamayo.. well, in my opinion, i guess that was the most boring boxing ive seen with pacquiao as one of the fighters... CLottey is a way bigger than Manny, but its like, he just went to the ring just to receive punches, and the match was really slow, no one was knocked out, it wasn't exciting or thrilling at all..

• Philippines
14 Mar 10
Yeah I agree with you. It was the most boring fight I have ever seen. Perhaps it was clottey's best, so nothing more to give. It reached the final round to the punching bag of pacman. Seems like he was hired to be such an object of Manny's training in preparation for the real fight.

• Philippines
15 Mar 10
That was the boring fight Ive ever seen in Paquaio's fight ever. Maybe Clottey was just after the money and fame why he fights Manny. During fight, obviously he is just standing there defending his face. I didnt enjoy there fight, Manny is a good boxer so he should also have a great fight but they just waste it.

• Philippines
15 Mar 10
Yeah I noticed that too, it seemed that he was not prepared and was always on the defensive when he was fighting. I think he already knew he was on he disadvantage and just tried to stay standing till the end of the game. I was a bit bored by the game since there was really no real fighting that happened in there but Cottley just keeps on evading Manny Pacquiao's punches which I think Cottley is just trying to make Pacquiao tired from doing his thing but unfortunately he was not able to find one except in one round where I think he lose which I think Manny allowed it to happen to give Cottley a chance to fight him instead of hiding and covering his face all throughout the game.

• Philippines
14 Mar 10
I think Clottey cared about etiquette so he appeared more handsome than effective. If he fought pacman rapidly he may look like a terrible murderer.

• Philippines
14 Mar 10
I think he did. I mean, he is a fighter and he also have this name to maintain and if he didnt give his best then that would surely affect his credibility. Pacquiao is just really fast and he punches hard. I was also thinking that he's not going to win this match because he became lenient in his training but I was wrong to say that because he is still maintaining the title. I heard that Pacquiao also had a difficult life when he wasnt a boxer yet. His training when he was still young and the training that he has now made him what he is.


• Philippines
14 Mar 10
That had to be the most boring fight ever. There was a lot of hype between them, but its all hot air. When I saw the press conference where they posed facing each other, I could see that there was no anger or hatred there, the kind that fuels a great fight. It was like seeing two girls fight, all claws but no scratches.