pictures

United States
March 16, 2010 8:24am CST
Do you take cute pictures of your cat to post online? I have some that I just emailed. My cat in a bag. I tried posting to facebook, but it didn't work for some reason.
6 responses

•
16 Mar 10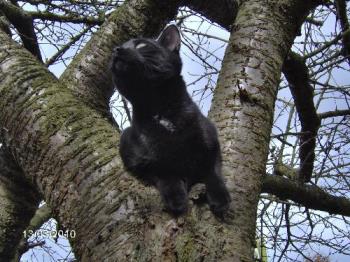 I'm continually snapping photos of my cats, I have hundreds of them - photos that is not cats! Here is one that I took recently of the youngest, 8 month old Shadow.

• United States
16 Mar 10
Aww your cat is cute. I would be afraid to let my guy climb trees around here because they are so tall, I would be afraid he would get up there and not be able to come down.


• Daytona Beach, Florida
17 Mar 10
I just took several pictures today with my phone. The cats love to get their pictures taken sometimes. Though Chinnia is a darker-colored cat so its quite difficult taking her picture. Unless I have the correct contrast no one can see who she really is. That's the only thing I don't like about taking pictures of the cats.


• United States
16 Mar 10