Would you take in a horse?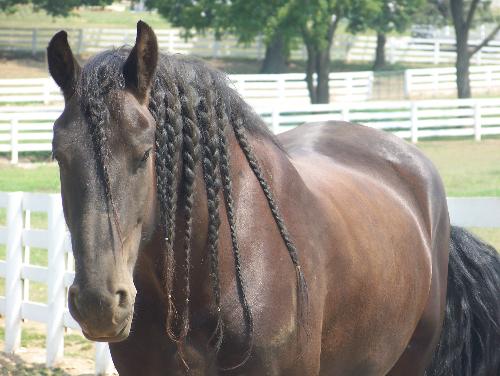 United States
March 19, 2010 10:42am CST
Someone I know is currently going through this, so I wanted to see what everyone else thinks. If you were buying a house with a barn and there was a horse in the barn that was clearly malnourished and not being properly taken care of, would you want to take that horse in? Even if you knew it would mean sinking a lot of money in it to get it healthy again and a lot of time caring for it to get it to start trusting people and being more friendly? Especially if you knew that otherwise it will probably end up either continually deprived or possibly even dead? I just wanted opinions. What would you do in this situation?
9 responses

• United States
19 Mar 10
Well, of course my answer would be "yes", but you already knew that. I am a sucker for taking in abused and abandoned animals, so that would definitely be a part of it. I have also wanted a horse for a long time, so that would be another part of it. I think that the money that the person would have to spend to get the horse healthy would definitely be a consideration as well as the time and attention that even a healthy horse require (and unhealthy animals in general require far more attention). However, I am not sure that I could say "no" even if I was not sure how I was going to come up with the money or find the time. I guess that I would have to believe that if it was meant to be, then I not only would get the horse but also find the time and money to care for it.

• United States
19 Mar 10
Well, I can't say that I'm not a sucker for animals, either. xD -cough- -points to the 3 cats, 2 dogs, and bunny- We've taken in more than our share of strays, as I'm sure you know. Oh, plus I've got hubby! That counts as a stray, too, right? And he costs more than all the others put together. xD

• United States
19 Mar 10
Oh yes, hubby is the biggest, most expensive stray that you have taken in!

I think that this person just has to weigh the positive and negative aspects of the situation before committing to anything. Of course, since I know how much of a sucker you are for animals and how much you love horses, I am sure that you would be more than willing to help your friend out with caring for the horse as long as you were able to ride it once it was healthy.



• United States
19 Mar 10
Hey now, don't be volunteering me for anything. You know, you could always volunteer yourself if you'd like. I'm sure they could use the extra help, and not just with the horse but the house, too. And I'm sure they'd let you ride it...if not just to see it buck you off because that would be slightly funny. xD As long as you don't break your back like Mark did...umm...but he slipped on ice. Yeah, he's got very bad luck.


• Philippines
19 Mar 10
hello phyrre, My family owns horses,so i would surely say "yes". It is not easy to care a malnourished horse,and to tame it would take a hard time too. But still,i would take some risks for taking care of it. Horses are one of the most friendly animals...so loving and caring too.


• Philippines
19 Mar 10
Definitely...it's the bond that's pays for caring a horse or any pets.


• China
21 Mar 11
Yes i would take in horse.Though it' very expensive so i will not buy it. And as you said so many cost so i will not take it. But I love to do horse ride. It's very interesting. Though some people get scared to ride horse but i am not one of them. I do enjoy a lot.


• Philippines
20 Mar 10
I will take it in and try to find ways and means to have some healthy foods for the horse. Ask experienced people what's the best thing to give it so that it will grow and not be malnourished. There are many ways to overcome that problem ask the veterinarian or animal caretaker what is the good thing to do for that thin horse. Give it a vitamins and good grasses to eat. If you cannot handle it try to ask someone to do it and have a favor to care the animal.

• Philippines
20 Mar 10
Yes..I cannot just let him die there or return him to the owner who didn't care for him at all, even if it means spending a lot of money. And if you already made this decision then start it as soon as possible before the his condition worsens. I know that it will all gonna be worth it in the end.

• United Kingdom
20 Mar 10
I would definately take the horse in, however if I could not afford it then I would contact a few local riding schools or liveries and ask to make a semi deal. I'd offer to pay for certain things and leave the horse in their services. I've always wanted a horse so if I did buy such a house with a barn I would take the creature in and make it my due duty so the horse is happy and healthy for the rest of it's life.

• United States
19 Mar 10
Yes I would take care of the horse no matter the cost. It is a living creature made by God. It makes me upset people get pets and do not take care of them and they act like the animal was always like that. This horse would also bond with the new person taking care of them. Animals are very smart and understand what is going on. I would also report the person and see if they could be charged with anything. I love animals and horses are so beautiful. I would do whatever it took to bring the horse back to it's beautiful self.