The mummy returns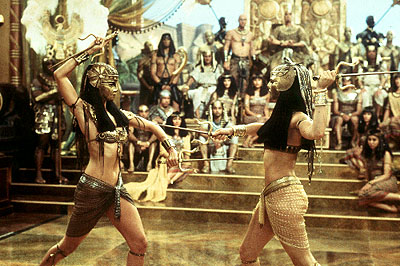 India
March 20, 2010 6:33am CST
Hi friend, I like this movie very much and the character played by Brendan Fraser is my favorite character in this, do you like this movie and whose character you like most.
6 responses

• Philippines
2 Nov 10
I liked the first and second movie of the Mummy. I didnt like the third one since rachel weiss is no longer there. And the new actress doesnt resemble nor look like her lol. Maybe i just like seeing rachel and how preety she is lol.


• India
27 Mar 10
ya i like this movie. i lyk mummy too but mummy 3 is not good as i thogt. i sw many times both returns and first part. good comedy horror movie with great visual's. i lyk every charecter in this movie

• United States
20 Mar 10
I like the movie have watched it quite a few times, however i really don't like how they used the character of the Scorpion King played by the rock when this movie came out they plugged the fact that he was in it and except for the opening sequence he was only in the movie digitally and i had actually gone to the movies to see this one so that part was kind of sad it was like they just wanted him in it enough to tease people into wanting to see him in the Scorpion King which was not the greatest of movies and no where near as good as the mummy movies. This movie and the mummy movies are both good because you have the good guy O'connell played very well by Brendan Fraser probably his most memorable character and the Mummy was a great bad guy and it was always nice to have those two go against each other at the end. The third movie wasn't too bad, but without Rachel Weisz playing the wife it is just not the same as the first too she had a certain flair for that character that Maria Bello could not match she wasn't bad but it was just not the same the overall effects were pretty nice and the movie was good just not as good as the previous two.

• United States
20 Mar 10
it was good but not as good as the first one. its hard to choose just one person from that movie that i liked the most, but i do have to say that i like the young boy in the movies he was funny and very smart how he left all those clues for his parents. it was also very cool how they tide every thing in form the first one and explained how all the people were some how connected.