Wow what a winner!

United States
April 19, 2010 9:36am CST
http://www.nzherald.co.nz/nz/news/article.cfm?c_id=1&objectid=10639124 North Shore Mayor Andrew Williams is facing fresh criticism after comparing himself to Jesus on the cross. In an email about reports he urinated on a tree after drinking at a Takapuna restaurant, he wrote to councillors: "Yes two blokes got cru­ci­fied this week …and both will most cer­tainly rise from the dead to come back to haunt a few people!!" The email was sent on April 4, Easter Sunday. The comment has outraged at least one fellow councillor and the Catholic church. Catholic Diocese of Auckland spokeswoman Lyndsay Freer said Williams' comment was inaccurate. "Jesus died for our sins, but he [Williams] appears to be crucified for his own." Williams has been beset by controversy throughout his mayoralty. Days after the tree incident he was forced to apologise for posting a Photoshopped picture of Local Government Minister Rodney Hide looking like Adolf Hitler against a swastika flag on his Facebook page. Article continues below North Shore councillor Ann Hartley did not receive the crucifixion email but was offended by the comparison. "That's terrible. It's just about as bad as the swastika, it's just tasteless." The email was forwarded to media from councillor Ken McKay's account. He said he would lay a complaint with Takapuna Police tomorrow about identity theft. McKay said he logged on to a public computer in the council workroom on Friday and while he was at a meeting someone used the computer to forward several emails. "I find it absolutely appalling that somebody has such a lack of integrity. It cast suspicion over everybody that works there." McKay said the emails were not embarrassing for Williams, but conceded the crucifixion remark might cause some controversy. "Some people will be horrified, but not me. It was a fairly innocuous remark, although fairly flamboyant." Council secretary Peter McArthur said the workroom, behind the public council chamber area, was unlocked, but computers were for councillors' use only. A security review was under way. Williams did not return calls yesterday. What do you think? Glad he isnt my mayor!
1 response

• India
20 Apr 10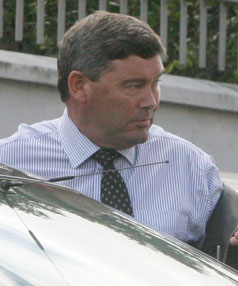 Mayor Andrew Williams is ever surrounded by controversies. Earlier, in December last year he was sending rude text messages to Prime Minister as late as 3:30 am. In August 2008 Williams collapsed at a Devonport Naval Base function and lashed out at attending ambulance officers. He was hospitalized. Williams later insisted he had "no recollection" of it and was just "exhausted" from an overseas trip. I think it is time for him to go.