How was your Mothers Day?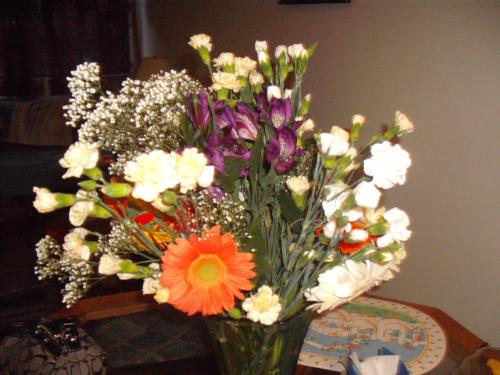 United States
May 11, 2010 9:31am CST
My kids are so awesome! My oldest daughter and her family came to visit and brought me gorgeous flowers and a tasty cake! My son and his new wife came later and brought me more beautiful flowers and we went out to eat at a nearby seafood restaurant that I love. All in all I had a wonderful day! What did you do for mothers day? Anything special?
4 responses

• India
30 Jul 10
My mother day was so wonderful because i had invited all my friends to attain the party,and they helps me in preparing special dish.And other hand we brought her the wonderful gift for her which she love very much.so we had a grand night birthday party with my mates and beloved mom.It was my unforgettable day in my life.Best wishes for my mom..........

• India
28 Jul 10
My mother day was wonderful because my boyfriend plan to go for picnic and we the family member went for picnic,at that time we celebrate mothers day with cake, chocolate and we gave present to her.I consider mothers day as a precious in my life and i will never forget mothers day. .

• United States
11 May 10
Actually it was somber for me this year. Which is ok, the two daughters that are near me had to work. My oldest is having an issue, you know, mom why didn't you this, why don't you give me that. So I leave her to her own. I won't take that anymore from her. She is a full grown adult with the reality we can't change the past, we do what we can with what we have. If it isn't enough, nothing can change it now. I actually bought dinner here for the daughter I am living with and her fiance' after they came home from work. Was a very quiet day by myself all day.


• United States
11 May 10
I spent the day with my boyfriend, my son, my mom, my sister and one of my friends. My boyfriend made us a wonderful dinner and yesterday he bought me a mother's day gift. Mother's Day was really nice for me. I'm happy to hear you had a really nice day as well!