Advertise my online business for a cheap price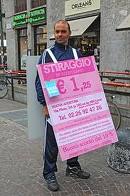 Italy
May 12, 2010 3:53am CST
Hello folks. I'm looking for the cheapest way to advertise my business. I want buy ads, because I don't want use exchange clicks sites. It take too much time in my opinion. I'm looking for some good and cheap PTC site where put the ads on. As far as I know, the cheapest one actually is Websiteimage.info . I'm a member there, I know they are trustable because I've ben paid 3 times from this site, and I found the advertising is really cheap. 1000 clicks costs only $1.3. They have around 1000 members, so can be a good idea buy a set of 1000 ads. But wanting spread my ads on a bigger base of users, anyone can suggest another cheap site where put my ads? I'm in needing to reach almost 10k users with my ads, and I can't afford a payment like common PTC requires. And due I can't also became a sandwich man to advertise my business, I need to find a cheap solution. Any idea or suggestions? I really would appreciate your inputs.
3 responses

• United Kingdom
12 May 10
Linkgrand is $5 for 1000 and http://www.earneasycash.info/ has cheap ones too!

• United Kingdom
12 May 10
Oh i forgot to mention that easyhits4u has some nice banner impression deals too.



• Alachua, Florida
23 Oct 14
the easiest and legit way to earn Free Money From Home. Start your free account today at Fanslave Just check here:
Pages Friday, May 10, 2013 Make Money by Your FaceBook & Twitter Account 2:15 AM    No comments You can earn cash with your Facebook page! Earn money - online. Make Money Making money by liking pages As the first provider in the world FanSlave allows you t