Does anybody know of a home made facial recipe?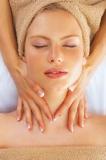 United States
May 14, 2010 3:12pm CST
I am trying to get my face back in order I have really dry and sensitive skin. So I am looking for some type of facial that I can make at home that is natural...Any suggestions?
4 responses


• Philippines
17 May 10
i have lots of home made body recipe that i can suggest..an ebook or a document.. if you want, u can give me your email address so that i can send them to you..thanks!

• India
14 May 10
Yes!! I know two kinds of home made facial recipes,where the ingredients are very easy available. Turmeric Facial Mask: This is the traditional mask and it is also used for a bride especially seven days in advance of marriage. Take a cup of Besan (gram flour), 2 tsp of turmeric powder or paste , 2 tsp of sandal wood powder, 2 tsp of ghee or almond oil, add some water to make a paste. Apply to face and whole body and leave for 5-10 minutes. Rub with pressure with both palms and fingers to remove all the paste. And another one is Honey Facial Mask:: Rinse your face with warm water to open up the pores. Apply honey and leave for half an hour. Rinse with warm water, then use cold water to close the pores. Rinse with warm water, then use cold water to close the pores. You may try this out.

• United States
14 May 10
I would try a Milk Mask. This involves 1 tsp powdered milk, 1 tbsp of runny honey, 1 tsp of aloe vera, and 2 drops of essential oil. This will be very moisturizing to the skin while the aloe vera will help with sensitivity. You could also try a yogurt mask, which are very popular for all skin types!