Our new puppy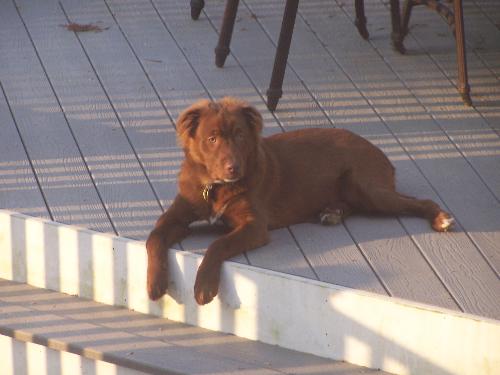 United States
May 20, 2010 7:21am CST
Last fall, my 12-year old dog died. She was really cool and was my kids first dog. It was really hard, and although I knew I wanted another dog, I wanted to wait a year or so. Well, last month my husband wanted to get one so I told him we'd "LOOK" but that I didn't want to deal with it right now. So we got our new dog. I wasn't real impressed with him, but my husband was itchin' to buy a dog. We got him from the SPCA, so he's just a mutt. They said he's part australian shepherd, but we're pretty sure he's not. He doesn't have any traits of that kind of dog. He is like a retriever or setter. I don't think he's going to get as big as we'd like - we like big dogs. His name when we got him was "Nanuk" but that lasted like 10 seconds. We were calling him all kinds of things the whole weekend we had him and finally came up with "Rusty" - he even answered to that! He was pretty laid back the first week or so. It took him a while to realize he wasn't going back. This one family had adopted him before us and after a week brought him back because the vet said he wouldn't be that good around little kids - they had little kids. I think he's fine around little kids. He is finally starting to act like a puppy though! He'll run around the house instead of just laying under the kitchen table (which is where he really likes to be). So, what do you think of our new puppy?
9 responses

• United States
20 May 10
Aw, I will go take a look..I lost our dog just over a year ago, but she didn't die, she had a disorder and we couldn't afford the enzymes she needed..Fortunately a save the white shepherd came and took her, so her is alive and well, across the country..So in Jan we got not one, but two new puppies and they are a mix too..Usually a mix breed has less health problems and I have fallen for these girls..I hope you enjoy your new addition, I always think having a pet is healthy for both physical and emotional well being..:)

• United States
31 May 10
I'm a big fan of "mutts" too. I have also heard that they have less health problems than pure-bred dogs. They're cheaper to buy also :) We're having a great time with him and he's finally starting to act like a family member.

• United States
1 Jun 10
Mine act like family too, they play and fight like the sisters they are...



• United States
21 May 10
Congrats on your new puppy Dawn! He's a cutie! I'm not into smaller dogs, though I've met some cool ones when I was working in a boarding kennel years ago. However, Rusty doesn't look all that small to me. But then again it's kind of hard to tell from the picture. Have a ton of fun with him! Happy mylotting!

• United States
31 May 10
He's gotten a little bigger, but I think he's going to be a "medium" sized dog. He's turning out to be pretty cool though - we like him!

• Canada
20 May 10
Ahhhh he's adorable. Too bad the family before you brought him back, how cruel that can be. But its their loss. I just know he'll be a great dog for your family and kids also. Dogs tend to be like the humans around them. Im sorry about your loss of your previous dog. I cant imagine what that must be like. My fur baby is 6 yrs old and he's also our first dog. I know that eventually he'll trust all of you and love you to pieces. Enjoy your puppy!!

• United States
31 May 10
The other family took him back to the shelter because their vet said he wasn't good for houses with little children. Apparently he "growled" at the vet when he was examining the dog. We didn't see that problem and since our kids are grown it won't matter much in the long run. We do have smaller children over a few times a year - family events - but we'll have him trained by then! I hope :)

• United States
20 May 10
Ahh Rusty is very cute. I am glad you adopted him. I am sorry about your other dog. I am sure he was considered a family member and not just a pet. I do hope that Rusty situates himself in your hearts and home! Enjoy him!

• United States
31 May 10
He's totally become part of the family. It took a little longer than we had thought because he was taken back to the shelter from his other families. He knows he's here to stay though so he's settled in nicely.

• United States
20 May 10
He's a cutie. He looks alot like a dog I had when I was growing up. Our dog was solid black except the white on his toes but the features were almost identical. Our dog was a cross between a black lab and a border collie. So it is very possible that he is a cross between a chocolate lab and an australian shepard. As the border collie and australian shepard share many of the same body shape. You will be able to tell if he has either pretty quickly if he starts trying to herd things, including kids and other animals.

• United States
31 May 10
He's definitely showing herding signs! At first he was pretty mellow, but now that he knows he's here to stay his "true colors" are starting to show.

• United States
20 May 10
What a beautiful dog!! If he's part Australian Shepherd he may tend to nip at peoples' heels--it's instinctive because AS are working dogs, bred to herd sheep and other animals. If he starts this, just distract him and he might stop eventually. Congrats on a lovely dog!

• United States
31 May 10
I do see herding traits in him, but I'd like to get him a bit mellow before our party at the end of the summer. We'll have a lot of little kids and I don't want him "herding" them... He is pretty cool most of the time though :)


• United States
29 May 10
He was about 5 months old when that was taken. He's really gotten used to us and actually "play" more. Since we were not his first or second home, he was a bit leery of going back to the pound at first. He's turning out to be a decent dog though :)

• United States
20 May 10
Your puppy is very cute. He does look like he has some of the A.S. in him especially around the face and ears. If you want to check get a big bouncy ball, the big ones and roll it around. We had a Scotch shepherd terrier mix who looked nothing like a Shepard at all and was only 20 lbs, but when that ball rolled all the shepherding genes came out and he would herd the ball for hours, at times until he was falling asleep on his feet! I Miss him we lost him two years ago now and he was a great little guy. We have a hound now who we adopted at 5 months of age. He was kept by his previous owners in a small cage in the house and when we got him he would hide in small spaces and would shake whenever anyone was near him, after a few weeks he realized things would not be the same in our home and he is now a huge Mamma's boy. Always at my feet (on them really) on the couch curled up with me and when I leave he cries for hours... only when I leave drives my hubby crazy...lol

• United States
29 May 10
We're dog-sitting this weekend and I can see some herding traits in him. Although I'm not sure if he's trying to be the "alpha" dog or herding... We'll try the ball thing though and see what happens...

• Philippines
20 May 10
Congrats to this new puppy! I know how hard it is for you to loose your 12 year old dog. I can empathize with you, I lost my dog that I has since I was 4 when I was 15 and it took me a really long time before I get one. It took me 14 years till I finally got this one pup. One thing I am learning is that dogs have different traits and though we hold on to the memories of the old dog we can;t bring him back or expect this new one to behave like the other. We just have to accept them for whoever they are. I hope you have great times with this new dog.

• United States
29 May 10
It is really hard to not compare Rusty with Sable (our old dog) but I try not to. He's learning though! And sometimes we think Sables "ghost" is teaching him things because he'll do something that she did all the time. They are fun though!