will you dare to eat or not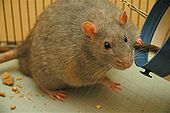 Philippines
May 20, 2010 10:59am CST
Hello mylotters, we do know that rats or mice were considered as pests and we also know too that there are some religion that worships them, and there are countries that includes them as one of their food, some consider them as their pet also. If in case you were invited by your online friend to visit their country, you accepted his/her invitation but you didn't know that in their village they serve rats as one of their exotic dish and specialty. During your meals right in front of you at the dining table were the dishes serves hot and looks so delicious. Here's the highlight, will you consider eating the said dishes to please and not to disappoint your friend or you will refuse and make some excuses not to eat the said dishes infront of you. If ever you refuse what could be the excuses you will tell your friend?
9 responses

• United States
21 May 10
That is just too gross and no need to discuss it further. Its A NO DEAL LoL

• United States
20 May 10
There is no way i'm going to eat either one of the nasty things, yuvk!! My friend & i would have to have it unserstood up front , before i even got there that i AM NOT going to eat that kind of thing. If they took offense i just wouldn't go.

• United States
21 May 10
When that dish came to me i would just say no thank u & pass it on. I think if i knew they wat rats we would have had that discussion before i ever got there. have a good weekend.


•
20 May 10
I will have to disappoint my friend is I have to eat rats or mice. Because I cannot even imagine having them next to me. They are the animals taken for observation in mostly all the labs so no matter having them in my plate. You know scientist do researches on rats because it is the only animal which is so close to human genes so we make experiences with it. I will tell my friend that my I worship the animal so I cannot eat it well it is just to lie to him/her for not eating it.

• India
25 May 10
Hi dear, In my case, I will just so 'NO' to it and I will go for some alternate dish. For whatever reason, I will be stubborn and will say sorry, I don't like it and I cannot eat it. There is no harm in telling your opinion as long as you have the right and I think your friened will understand the situation. Thank-s

• China
22 May 10
Hi,there.I really don't dare to eat rats and mice and I just can't imagine it.But I once heard there are some people in China like to eat it and they even say it's very delicious.Oh my god,I just wonder why they have such feeling.So if someday it's in the table I am afraid I will couldn't help spitting out.

• Philippines
21 May 10
first and foremost i need to know more about that friend first before considering myself to visit their place, knowing what they eat, whats their belief and values and etc. so if that friend of mine mentioned that they will eat rat then i will tell her that i can go there but if they can excuse me for the rat coz i dont really eat it though i respect there belief and religion nor tradition nor whatsoever. nor, if i already go there and they serve it of course i will refuse to eat even in front of the whole family though of course i can make an excuse like i dont eat any kind of meat coz im a vegetarian, f they will forced me to take some then i will tell them that my appetite did not accept any meat and i might just going to vomit it.

• India
21 May 10
Before accepting the invitation, I will make it clear to my friend that I am a strict vegetarian. This would save me the trouble of declining the offer. This way I will not be hurting my host's sentiments too. To a vegetarian no one would serve rats.