Mosque being built 2 blocks from World Trade Center site, whats it to you?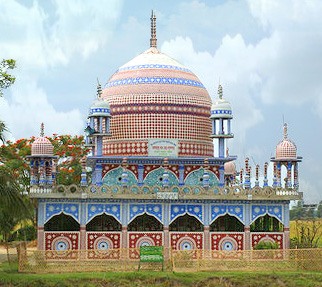 Atlantic City, New Jersey
May 26, 2010 10:26am CST
OKAY- so the big debate on daytime TV today is the fact that a Muslim Mosque is being erected 2 blocks from the site of the 9/11 World Trade Center attacks. Everyones argument is different- some feel it would make the survivors feel like they were being ridiculed (I personally have no clue how or why). Others say that by NOT allowing the Mosque we are blaming all Muslims for the choices of a few (in my opinion- true). Either way I believe that a place of worship has no place among war. It is not the Muslim religions fault that the US was attacked on 9/11- so why are they not allowed a place of worship there. ALSO- I am sure there were Muslims present in the buildings as they were attacked- what about the surviving family members and surviving Muslims themselves of the attack?? Don't they deserve somewhere close to the site to pray? I don't know- is it a problem to you if a Mosque is erected in New York two blocks from the World Trade Center site?? If so, please elaborate and tell us why, or why not for that matter.
5 responses

• Jamaica
27 May 10
Since I am not a US citizen I will be a bit general in my view. I certainly would have a problem with the mosque bing built there. Whether or not all Muslims are against the US those who belong to the religion nust face the reality that the extremist amongsdt them brought much hurt and pain to other people. Afterall, not all Americans or British even agree to the war and invasion amassed on another nation by their own troops but its the people of those nations who get the blame as well as their leaders. To me its much like the family of a murderer moving in to a house next to the family of his victim's family. They may be innocent but asking the family of the victim to be accommodating (especially if they have not healed and gotten past their loss) is just too much to ask. Innocent though the murderer's family may be they ought to have some level of respect for the hurting family and consider them.

• Jamaica
27 May 10
Thats true. We must deal with the ugliness of prejudice but in the same breath we ought to be careful of how its done. It makes little sense to create more hurt for either party and in this case the Americans are still suspicious and distrustful of Muslims although many seem to have concluded that their own government pulled the stunt. I say build the mosque in a more nuetral location and allow those who are hurting to heal. To me its more like provocation and an unwise path to trod.

• Atlantic City, New Jersey
27 May 10
I was just informed via facebook that the supposed opening day for the mosque would be September 11, 2011-- now if this is truely the case...then I, as an American- would feel mocked in some type of way. There is no need to commemorata the anniversary of one of this nations biggest tragedies........But I do not know the validadity of this information.

• Atlantic City, New Jersey
27 May 10
and thats all saying that they were even a part of it to begin with....I mean we are told so many lies.....the truth is sooo well hidden!



•
26 May 10
There are lots of horrible instances over the centuries, that have been carried out in the name of Christianity, and the vast majority of us live in peace with our fellow human being, so why should we treat Muslims or people of any other religion any differently.

• Atlantic City, New Jersey
26 May 10
I agree! We cannot persecute everyone as if they all believe the same way. It isn't fair to the innocent ones who are just forced in the middle because of their choice of religion or belief.

• United States
26 May 10
Ok first off, someone else posted a similar discussion about this here and they were rather close minded (in my opinion) to this subject. I don't like to blame people for the rhetoric they have been taught for years though by our media and government. My stance on it was about the same as yours though. I don't see the problem with erecting the mosque, but I do understand why there is an issue, as ridiculous as it may be. People are indoctrinated to believe anything associated with Islam is automatically also related to terrorism. It is exactly what they want us to believe as well because it makes bombing Islamic countries seem justifiable. either way all of this takes me back to 9?11 and since we still have no definite proof we were even attacked by an outside Muslim entity, how can we blame anyone for the attacks? Are we all forgetting the 9/11 Commission's investigation being blocked? Evidence being withheld? The fact that there was no plane wreckage at the Pentagon or Pennsylvania "crash sites?" America was whipped into a frenzy (understandably) after the attacks and they put Osama's name on it to make the transition to bombing Afghanistan, and later Iraq, seem justified. Fact is: If we were even attacked by 19 SAUDI ARABIAN TERRORISTS, why were we in Afghanistan? Shouldn't we be in Saudi Arabia looking for terrorists cells? Why aren't we? Why did we (I use the term lightly) bomb Afghanistan? Is it because American politicians are in the Saudis pockets? Is it because Prince Bandar and George W. are like best friends? Hmmm.. THERE IS OVERWHELMING PROOF THAT OTHER FORCES WERE RESPONSIBLE FOR THESE ATTACKS, YET THE AMERICAN PUBLIC (MOST OF US) HAS SWALLOWED THE WHOLE 9/11 LIE HOOK, LINE, AND SINKER. I can't believe we still even are having the debate. Anyway I can go on and on about 9/11. Its just with all the things that has happened, in reality, to oppose the mosque being built on the WTC site is ridiculous. I mean there are churches erected on land once owned by the Native Indians, who were probably killed off in the name of Christianity. I don't see anyone screaming about that. Oh it's ok now? Please people(and I don't mean you WWW) stop getting caught up in all this prejudice rhetoric. Even if there actually were 19 Muslim terrorists who decided to fly airplanes (which are tracked by radar and satellite) into buildings. They in NO WAY represent the entire nation of Islamic practicing people (which is the largest religion in the world). To say this would mean over 2 thirds of the worlds population is associated with terrorists cells. How could that be possible? To say that would also mean that since white people kept slaves up until the 1860's, then all white people must be racist. Or even better example, the group of Christian terrorists who were plotting to blow up police precincts a few months back, must only mean all Christians are terrorists as well. Do we all see the ridiculousness of this way of thinking yet? (Whew) I think building a monument dedicated to peace is a perfect addition to my town. New York City needs more spirituality and if it be a Mosque, Church, Synagogue or whatever, I think it should be commended. Like I said I understand the reprehension but people need to open their eyes and stop hating what they don't understand, or at least stop hating just because someone told you to. http://www.mylot.com/w/discussions/2312702.aspx (Similar discussion, they didn't like me much, lol) http://www.mylot.com/w/newsarticle/24309137.aspx (Christian terrorist cell) And you know already, great post.... Thanks for giving me a venue to vent.

• United States
26 May 10
I remember the day like it was yesterday. I woke up quite late the Afternoon of September 11th. I heard a knock at my door. I opened it and this guy I knew was outside, His first words to me were, "how bout those damn Muslims?" Having no idea what had happened that morning, I got offended first (being a Muslim) and then asked him what he'd meant. He told me the World Trade Center was gone. Of course I didn't believe him but lo and behold I turned on the television and saw Tower Two collapsing. My first thought: George Bush blew up the Towers. I bet they gonna blame it on Islam again. As Salaamu Laikum.

• Atlantic City, New Jersey
27 May 10
AMEN Tjades! I agree with every word you said....and you have just met two Americans (Shamsta and I) who believe that our own country is at fault! Everything done in the dark, comes to light.


• Pakistan
27 May 10
you are a fool.. you think that not the terrorist but the muslims destroyed the buildings.. if this is true you should go to a doctor. how about those muslims who are helping you in war against terrorism if we all fight against you you wont survive.. imagine ho wmuch saudi invest ment in your country.. if they pul off you wil be on footpath.. what if they stop oil

• Atlantic City, New Jersey
27 May 10
What are you talking about? Please re-read the discussion and re-post an relevant answer...NOBODY stated that I thought the Muslims did anything...RE-READ IT before you post again please!

• Atlantic City, New Jersey
27 May 10
You having a "3" for a rating in your star shows you must do this often. Please read my post before jumping all over anyone.

• Atlantic City, New Jersey
16 Sep 10

now your a "2" - I see its getting worse- and yet still no response to my first comment


• United States
26 May 10
OK, I guess I'm going to be the odd one out, because I don't believe a mosque should be built that close to the site. The people who come to pay respect to their loved ones will be very few Muslims...there may be a few, and to those people I do feel sorry for, but for the others,the site of the Mosque is going to anger them. I know it would me. Would it be that much more difficult for the religion to move their building a few more streets down?

• Atlantic City, New Jersey
26 May 10
Hi cici, First let me say thank you for your response. I'm glad you decided to answer even though we differ in opinion. A good convo and healthy debate are what mylot is all about :) And I unlike some here on mylot- will ALWAYS respect your opinion. I do have one question. Could you give me a solid reason why you would be upset? I mean the muslims visiting this Mosque- why should they be condemed as "bad people" because of something a handful of people of the same faith/religion did? (IF THEY DID IT) That's like saying you have a brother who murdered someone- are you now considered a murderer too? Or are you your own person? Just a thought to ponder and I welcome and look forward to your response.