She is almost walking!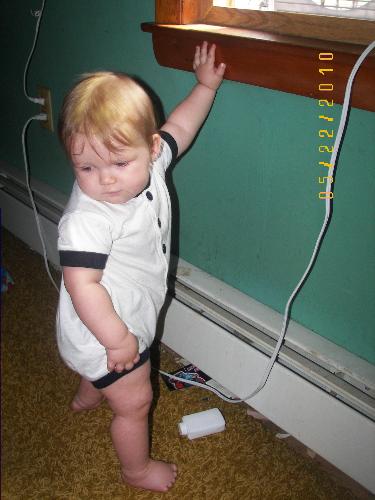 United States
May 28, 2010 3:18pm CST
My youngest daughter is about 8 weeks shy of being a year old. A few days ago she took her first step and she does a few here and there. I cant believe how fast she is growing up. My 2 older daughters didnt walk until well after they were a year old, that I thought they were never going to walk. I dont like how fast little ones grow up. Sometimes I wish they could be little babies forever.
2 responses

• Malaysia
28 May 10
It's really nice to see them start walking, I suppose it's one of the biggest milestone during the babyhood. It can be quite scary or heart-breaking to see them walking too! When you see they toddle, and they might fall down, and they still want to walk FAST! You always want to be there for them, to prevent them from falling down or hurting themselves badly, but you still need to let go as they need to learn. I always have these contradictory thoughts when I take care of my 15-month old son.


•
28 May 10
Its scary isn't it? One moment they're napping on the sofa with you, the next they're running off and you can't even get a cuddle! Every day is an adventure when they start walking; I remember following my eldest around everywhere to avoid inevitable incidents like her "does this float or sink in the toilet?" tests (daddy's shoe, the remote, a sponge, mummy's watch... etc)! We're expecting baby number 3 at the moment. Babyhood may be over for your little girl now, but enjoy the next phase, its just as much fun :)