do you throw your garbage at the right place?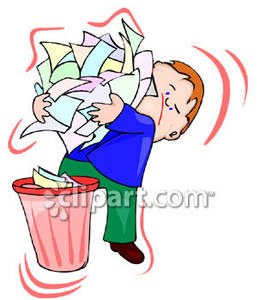 Philippines
May 29, 2010 10:29pm CST
hey,people! who among you throws their garbage on its proper places? well,nowadays there were lots of garbage around everywhere. do you know that if we could just help each other out with just simple things like throwing garbage on trash cans can make us live more comfortably? imagine how bad it is if it starts to rain,all garbage that were not properly placed in trash cans will combine with each other then leaving them big pile of dirt...

when it rains and starts to flood,all garbage would just float which will cause us sickness,my friends! i know what you mean. who among you wants that,right? so,if you have something to throw,please make sure that you are throwing it at the right place like trash can.in that way,we can be sure that no one gets harmed. and we can prevent pollution my friends! my sister used to throw her trash outside the windows when we are riding a transportation. i told her,if she can only see how clean the road is,it's not nice to throw anything everywhere,right?

she just say she will blame her child for doing so. what a rude explanation,right? poor child,being the one to blame when she is so innocent...

whatever the trash is,even it's just a candy wrapper to the biggest pile of dirt you have,please help our mother nature and be responsible for the things around us. [b]how about you? do you throw your garbage everywhere like my sister and blame the little child for doing so?or you want to live a healthy environment like me?[/b] [b]please be honest,my friends!
10 responses

• India
30 May 10
Hello friend!! Yes, I keep the environment safe at least by myself... I do not throw any thing at any place... Specially plastics which takes centuries to decompose... People eat chewing gum and throw anywhere ... so bad...It takes millions of years for such things to decompose...how one can be so careless about the planet on which they are living.. People say it is responsibility of government or municipal committee to take care of all these things...I want to ask why????


Are they not human being or you are animal?? Everyone need to become aware about the environment and everyone should take care of their surrounding.... Sorry, if my words hurting to someone but I did not say anything wrong I guess as I am too concerned about our blue planet and want to keep it safe.... Government or anyone cannot do anything till every individual will take part in keeping our planet safe... Yes, here we can start campagine to keep our environment safe and we two hunderd six thousand people can make big difference... and we can make the people aware of varous activities which will help to improve our surrounding... Save Environment... It is duty of everyone!!! Thanks Miss Annavi

for starting such a good discussion.. I appericiated your effort. Take care and keep the environment safe... Have nice time!! Happy myLotting!!

• Philippines
30 May 10
wow,what a nice speech,my friend!

you are right! we all have duties and responsibilities as a person living on this planet to keep it clean and help others to preserve mother earth. you know what? i'm just sad for others who really don't care for their surroundings. even the chewing gum itself. i noticed everyone or most people here in the philippines usually throw their chewed gum which lasted for how many minutes from their mouth to anywhere.i can see something from the floor,or from the jeep where underneath the seat or behind where i am sitting.there's a time i've been a victim of this chewing gum.it sticked to my hair that time,i didn't notice there was a gum on the jeep.i was so irritated to let go of it on my hair. what i do is i put shampoo and conditioner but i still felt sticky so i went to have my hair relax.well,that works! i just can't imagine i have to spend how much money just because of a gum not properly wasted.such people don't know how to be responsible.well,some people also do this on purpose to stick the gum to others who they hate,like their teacher but it doesn't mean,it's a good move.however you look at it,it just ruins life of most people,right? yes,it's not just the government that is responsible when it comes to garbage.all of us living in this planet are obliged to be responsible and be human enough to deal with our surroundings.i hope we are all united when it comes to this thing. yes,we are all 206 thousand people here in mylot and i know,by reading this discussion,all people should be aware of their environment. well,it's all for mankind's sake,right? so please,people,let's act now and clean our environment!


• India
30 May 10
Hello friend!! I am happy for the fact you are also joining this campaign with me for keeping our planet clean... Yes all have to become human being... and stop acting like kid or animals who do anything anywhere.. Everyone has duty to keep our surrounding clean... And as I said in one of my response... I am good at giving speech and I do not say things which I can not follow by myself.. It was not merely a speech for me.. It means a lot to me... Can some see getting their mother bad... NO...NO... BIG NOOO!!... Same is here... EARTH IS OUR MOTHER AND IF WE WILL NOT KEEP IT CLEAN THEN WHO WILL??? I am expecting good responses from others as well on your this discussion if they really care about their planet.... they surrounding and they really want to lead a disease free life... as one can not live disease free in bad environment!! Have a nice time dear friend!! Continue your Campagine... I am always with you for such nobal causes.... Have nice time!! Happy myLotting!!

• Philippines
5 Jun 10
Most of the times, I try to throw my garbage at the right places. i just watched a documentary about the effects of global warming on earth so i made a promise to myself to at least help in my own little way. i segregate our household garbage as well into biodegradable and non-bio, then recycle as much as i could.

• Philippines
5 Jun 10
it's really good to practice yourself being responsible citizen,it's also a way of disciplining yourself and helping mother earth. well,i just hoped many people also would help us when it comes to our environment.thanks for sharing your thoughts here,nice day friend!


• Daytona Beach, Florida
30 May 10
I don't know where you are, but where I live the problem isn't all that bad. Sure you'll have the occassional litter, but in general people do try to use trashcans. Our roads and streets aren't covered in them either. Though despite tossing trash into waste bins and what not, if its not covered (like some aren't) then that problem's going to occour. The world isn't perfect, nor is mankind. I can honestly say that I'm not out that much, and no I don't litter my apartment with it. The appartment may look cluttered, but other then that its perfectly fine. And its cluttered because my partner is a pack rat and a majority of our things are stuff he finds.

• Philippines
31 May 10
hi kaylachan, i'm from the philippines and it's hard to see people just throwing away their trash everywhere.i just hope they come to think of clean environment and help other mankind to protect our environment. well,i think you are well enough responsible when it comes to garbage stuff. it's good to see that your apartment is not having problems when it comes to garbage.but i think most of your things at home are cluttered and it just looks messy. there were people who just can't be good at organizing things. when you keep on organizing your things,you'll always know where to find your things needed.without blaming anyone. i just remembered my father,he used to blame all of us here in the house.we are all 6 people in the house and he always blame us where to find the things he needs.when in fact he was the one who last fixed those things. we're just annoyed by this kind of behavior he has.


• Philippines
31 May 10
you know,all of us don't want bad smell on our environment.well,i'm just asking here,how do you dispose your garbage.is it in the proper place that could not harm yourself or others? i just hope no one gets sick because of garbage not properly placed in trash bags or something,like it.have a nice day,my friend!


• India
30 May 10
when i was a child i was like your sister but as i grow up i realized the importance of healthy environment.Now,i throw trash to their right places.As you grow old people learn many good things and also bad.

• Philippines
31 May 10
yes, it's really bad habit to just throw your trash everywhere,right? when i was also little,i just throw trash everywhere. well, we all have our freedom to choose and do whatever we want to do. now that we are old enough,we have to be responsible on things around us. to help our community and country and other people be also held responsible for these things. i hope we all be united in these things to have a healthy and clean living place.also help protect mother earth,the way it should be.

happy lotting my friend!



• Philippines
31 May 10
oh? is that so,my friend? well,thank you for being honest. you are the first one who admits you are not good when it comes to this things.you know,my friend, it's not the end of the world so you can still have a chance to help others place garbage on proper places.just imagine if we have clean surroundings right? it's just a matter of discipline for one self,my friend! we are all living in this planet so we are obliged to be a responsible one specially when it comes to our environment. if you have the chance to hold on for the trash for a while and find the nearest trash can,i guess it won't harm you for doing that,right? just imagine if people would pile up their garbage to the dark corner,that dark corner would be full of dirt and when it rains,it can cause bad smell and could clog the drainage which cause flood and bigger problems would exist. so please do help save yourself and other mankind...

i guess nothing will lose you if you do the right thing,my friend!

have a great life ahead!


• Puerto Rico
30 May 10
I think littering is a horrible disgusting habit. I never litter. I usually would put garbage in a bag in my car or in my pockets and throw it in the garbage can when I get home. My garbage from the house is put nice and neat in the garbage cans. One being for regular garbage and the other for recyling garbage. I get so upset when driving and I see someone throw a bag of garbage out of the car. Its a total disgrace that people don't want to keep their community, town, state or earth clean.

• Philippines
30 May 10
lelin,i agree with you,that littering should be stopped if it has been done the wrong way.i just hoped people who were riding that car would learn their lesson someday. yeah,it's a total disgrace to see people not doing their responsibilities as human being.we should all be aware of throwing garbage the right place.living in a clean,healthy environment with fresh air is such a nice way of living everybody would love!


• Philippines
30 May 10
I always throw my garbage at the right place. Even the smallest candy wrapper I make sure I throw it in a garbage can. I'll just put it in my pocket if I can't find any garbage can or any place where it should be thrown. I also segregate my garbage but it sad that when it comes to garbage collection the collectors just throw my garbage in the truck so my segregation is useless.


• Philippines
30 May 10
hi jugger, nice to know you are being responsible for garbage things.yeah,i also segregate papers from cans and other stuffs that shold be thrown.when there where things that needs to be sold to recycle,i sell them(the papers,cans,broken appliances).oh, i remembered my other problem,where do you throw your broken gadgets like headset,cd's,broken keyboard,etc? i really like to know... it's nice that we can segregate garbage but when it's time to collect them,i agree with you,the garbage will be piled up the garbage even without the segregation things.why is it like that? why do people have to segregate then at the end,it will also be piled up all the same? how can we improve these things?

• United States
30 May 10
Oh my. I try not to litter whenever I can. I have a lot of friends who litter a lot of things, without even a smidge of a guilty conscience over it. I can't do it. Our streets are dirty, too, and it makes me sad that people can't just throw their garbage in a nearby trash can or dumpster or hold onto it until they get home. It's sad. I try to put a little plastic bag in my car, in case I have trash, and then throw it out in a garbage can or dumpster when it gets full. Sometimes I'm bad about this, but I'm pretty good about it in general - because i find it disturbing how so many people litter outside.


• Philippines
30 May 10
hi maezee, luckily i found someone who also concerns for the environment. thanks for being a wonderful citizen that you are,my friend! i hope many people would realize how much dirt and trouble it will cause us if we all are drowned because of garbage everywhere. i just don't like it. i also kept my garbage inside a plastic and hold it until i get to see a nearby trash can.sometimes i just have to bring my trash home if i haven't found trash cans everywhere.it's not nice to throw garbage everywhere without having guilt,right? i think it is our responsibility to help clean our environment and save mother earth.