The golden beach of Havelock.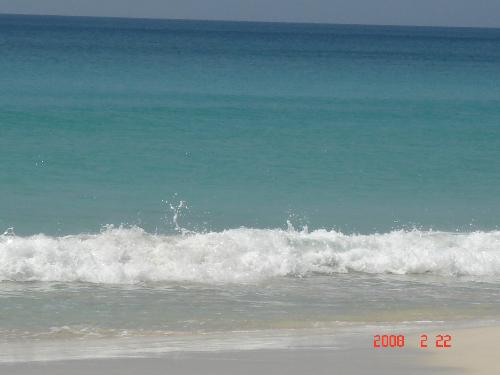 India
June 26, 2010 1:48am CST
I had visted Port-Blair in 2008. The place is full of natural wonders whether these are dense forests or beautiful beaches. We had also gone to Hvelock Island. The ship took about three hours to reach Havelock from Port-Blair. As we had been told, we straight way went to Radhanagar beach. We had been told that this particular beach was one of the best in Asia. They were not wrong. I simply can't tell you what we felt there. It was beach with white sands. The sea waves were coming one after the other to embrace the coast as if a small child is trying to jump to mother's lap. On another side there were dense forests and never ending lines of coconut trees. I really enjoy the stay there. It was as if I had come to a different world full of tranquility. I hope some of you must have visited the place and if not, please do visit.
3 responses

• Philippines
26 Jun 10
First I would like to say that the photo look so beautiful and serene. And you are right the photo did not lie and so are you it is indeed awesome. I like what I see in the photo clear and sandy white beach...what more if I could be there and visit that place in person that would be heaven to me. I also like to see the dense forest and and the coconut trees. I must say you are very lucky to have visited that place. And i wish that I could visit that place before my lifetime here on earth ends or before the world ends. I like to see many natures wonders and especially beautiful beach sceneres.

• India
27 Jun 10
Hey Uday, I went to Port Blair last June. It was an amazing week of fun!!! Only sad thing was I couldn't go to Nicobar. Will definitely go there again just to see the turtle beach. Just hope I don't get washed away by another tsunami!!!! My friend's dad was an IFS officer so we got to see a lot more of the Islands that are generally not open to the public. In Radhanagar beach, if you take a boat, you get to the twin Islands of Ross and Smith. Its actually a single island but becomes two during hide tide!!! That's truly a beautiful, pristine beach untouched by man or pollution!!!! The waters there are clear and blue and you can see all the way through though the water is deep not shallow. I went snorkeling there, it was truly awesome!!! The next place I liked a lot was Havelock Island. It was the rainy season there so the beach water was shallow and it looked kinda scary cause the water is transparent so its just looks like a wide expanse of white sand. I will upload some of the pictures that I took on my profile, watch out for those!! We went for a boat ride and went coral watching from the glass bottom boat!! But the best experience was going in a helicopter to Havelock!!! We returned to Port Blair by ship though and I see so nauseous the whole 3hours. Was stuck on the deck for 3hours straight! . But that was my best holiday till date. I so wish I can go there again. Andman Islands is truly a haven!!!! My next wish is to go to the Maldives!!! That's another beautiful place with pristine beaches

• Garden Grove, California
26 Jun 10
hi udaymohan that picture is so peaceful and makes me wish Ihad the mpney to hop on a plane and get to this beach. but alas I have two dollar in my billfold and maybe forty two dollars in my checking account, cannot fly on that kind of money. lol. But I could spend five and a half dollars to be taken on around trip to Newport

Beach at the pier.I live in California by the way.