Do you get on with your brothers and sisters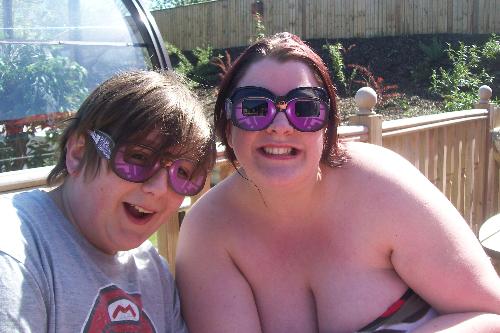 June 30, 2010 11:48am CST
I have three older sisters and one younger brother. I get on OK with my sisters but my little bro is my very best friend!! He is 14 now and I was 7 when he was born and I love him to bits, even though he is a pain in the bum!! I donb't live with him now as I am married but I go and visit as often as I can. This picture is my and my bestest mate, JAck by Mum and Dad's pool!
5 responses

•
30 Jun 10
Well, I was an only child until my (half) sister was born in 2000 to my Dad and his 2nd wife. So my little sister is almost 31 years younger than me! We get on well, but it's not like a traditional sister relationship. I have 4 children myself and they often fight and argue, though some combinations are better than others!

•
30 Jun 10
me and my brother fought all the time when I was at home but now we get on great, I want to move back where my mum and dad live to be closer to him ( Well OK the pool might be a temptation too!!!)

•
30 Jun 10
Hi Steh, I have two younger brothers, one two years younger and a baby brother like you who is 21 years younger than me, this one I tend to mother a bit as only eighteen months older than my eldest daughter but get on well enoughalthough don't see him mich, my other brother though I am very close to and although live some distance away will phone each other each week and visit as often as we can. Huggles. Ellie :D

•
30 Jun 10
Not that much LOL!! You know he loves his big sis!!


• India
30 Jun 10
I am just one brother and sister and my brother is 5 years older to me so he cares me a lot and always behave as an big brother only but my cousin who is 2 year younger to me is my good friend we normally share the thoughts also though he is also now married but still we are good friends and now his wife is also becme good friend of mine.

•
30 Jun 10
I have three older sister the youngest was 12 when I was born so I also have 9 nieces and nephews!!

• Beaconsfield, Quebec
22 Oct 10
I have one younger sister, and I have to admit that we don't talk a lot to each other. We do get along when we do see each other, although we do still fight. It's sad that we don't talk more, but that's just the way that it is. That's the way that things have gone.