Love Padlocks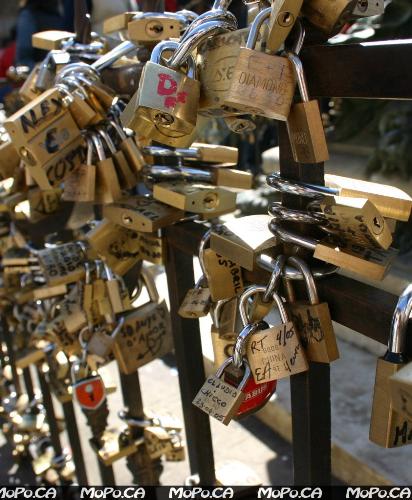 July 26, 2010 4:53pm CST
Basically the idea is that you write the lovers name (add your name, anniversary, message etc...) on a padlock and lock it over a usually dedicated structure. 'sealing' your love. Has anyone seen these before? has anyone ever used one? what do you think to them? Personally i think they are heart warming, it just the fact that its a padlock, they are not really pretty when seen and not really classed as romantic on first glance.
4 responses

• Philippines
27 Jul 10
I never use that before but I really wanted to. In Korea there is a tower named Namsan Tower, there is a certain place here where lovers can put padlocks as a sign of there love to each other. It's like a promise that nobody can ever separate them and that they will be together forever. Some people will throw away the key to their padlocks so that no one can open it. Here is a blog with how romantic Korean are hhtp://www.buhaykorea.com/2009/04/10/n-seol-tower-locks-of-love/, there are also some of these in Japan. I hope I can visit these places with the person I truly love. :)

• India
27 Jul 10
Hi dear, I haven't tiried it or though of the same. But looks nice and something different. Thanks for such an idea. Regards, Thank-s

• China
27 Jul 10
Vows isn't something that you can lock. It is something in two lovers heart. If one of them doesn't love the other, it means the end of the love! Therefore, don't try to lock vows.

• Philippines
27 Jul 10
I haven't seen one in real life, but I remembered seeing it in one of the Korean drama series that I've watched. It is placed along a fence on the ground terrace attached to a tower in Seoul. Hundreds of locks have been hung to represent the love of their owners. The keys of those locks are thrown away to ensure their vows not to separate. Personally, I am a mushy person, but those types of sealing vows seems childish to me...=)