Is war justified?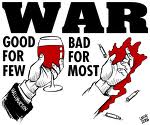 Mauritius
August 4, 2010 2:09am CST
Some people think that war is justified and it is the only solution. wars is a horrible fight fought among countries and for whatever reasons, it kills thousands of innocent people. i think that war is simply an easy way out and we must try to stop it. what do you think lotters?
4 responses

• Mauritius
4 Aug 10
It is sad to see that in this modern era people are still fighting among themselves for power, etc which are only artificial. At the end of the day its mostly the innocents which are being killed. It is true that people/countries fight for their rights but this can be conducted in a non violent way.

• Indonesia
4 Aug 10
stop war in this world. i hate war. soo many victim which not un guilty.and a lot of victim is women and kids. i don;t know what people think when they decide to star war in this world. did they think again?soo i think we must stop it from now, no war at this world and make a peacefull in this life.more beautiful can be this world

• Philippines
4 Aug 10
It depends upon the situation. War is justifiable if its reason is to stop greedy people who only wants power and money, with no heart in killing innocent people. Another war which is justifiable is REVOLUTIONARY WAR. This kind of war justifies those people who were oppressed by those countries who colonizes them. For example, the war happened here in Philippines during the time of Andres Bonifacio and other Filipino heroes. It was a revolutionary war and it is justifiable since Filipino is on war against the colonial government of Spain. At least in the end, we were able to commit complete Independence.

•
4 Aug 10
Wars, go on till men refuse to fight! I think most wars are unjustified. all the best urban