Duggar Risk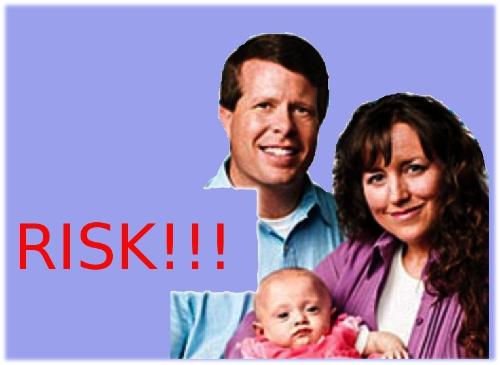 United States
August 11, 2010 2:36pm CST
Jim Bob and Michelle Duggar are ready to try for baby number 20. According to the press, the term is "seriously considering", but considering their history, their ease of conception, and the lack of contraceptive use between them, the pregnancy test will probably be positive within a matter of months. - This is only a month and a few days after the homecoming of the premature Josie Brooklyn Duggar. Josie was born three months premature because Michelle had near fatal pre-eclampsia and had to have a life-saving C-section. - Josie spent much of her little life in the hospital, with her mother and father in attendance while siblings looked after siblings in a rented home. - Jim Bob and Michelle Duggar are part of the Quiverfull movement. - http://en.wikipedia.org/wiki/Quiverfull - Quiverfull is a movement among conservative evangelical Christian couples that promotes procreation, and sees children as a blessing from God, eschewing all forms of birth control, including natural family planning and sterilization. Adherents are known as "quiver full", "full quiver", "quiverfull-minded", or simply "QF" Christians. Some refer to the Quiverfull position as Providentialism, while other sources have referred to it as a manifestation of natalism. Currently several thousand Christians worldwide identify with this movement. It began to receive significant attention in the U.S. - Michelle said she will continue to have children until she is physically unable, be that menopause or death. She has already had at least one brush with the latter. As she grows older and continues to have children, danger continues to climb with this prodigiously Quiverfull devotee. - Whilst both Jim Bob and Michelle Duggar are adults and can make their own choices on reproduction, their choices have acute ramifications on those who are not adults and are without choice in this matter; their children. The older children, should Michelle Duggar happen to die in child bearing, may be trapped in raising the younger siblings left motherless. Worse, the young babies Michelle has when older and at higher risk could come forth disabled and or sickly, perhaps to die. What have Jim Bob and Michelle Duggar done to prepare for such a possibility? - I know that Jim Bob and Michelle Duggar have health insurance, that was mentioned on one of their television programs. What was not mentioned is what would happen if a parent was lost.
2 responses

• United States
25 Aug 10
That is a very valid possiblity. That is actually the reason that for me it wasn't a possibility for me to have children after I reached a certain age. Well, my sister-in-law who is only 23 years old has had fairly dangerous bouts with pre-eclampsia with both of her daughters and because of that she is having her tubes tied at this early age. I think that people really need to take into the consideration the risks to themselves and to others.

• United States
26 Aug 10
Your sister is very wise for her age. I'm glad she is taking to heart the welfare of her babies in her decisions.

• United States
11 Aug 10
After having my daughter at 29 weeks, she was my first, we are very hesitant to have another. We have been weighing our options for almost 3 years now. It seems very unfair to a baby to do that to them when you know that your chances are more then others. It took us over 2 years just to get pregnant with her. I have some hormonal problems so I know chances are I would have another preemie plus I am over 30 now which increases your chances. At some point you have to think about the well being of the children that you already have, and lets face it they have plenty, and consider what a new baby may have to go through. They tell you that they don't remember it, but you do. They tell you they are not in pain but how do they really know that. Plus you miss some very important bonding time. There is nothing harder than having to leave the hospital without your baby, it breaks you heart everytime you have to leave and for us that was everyday for 11 weeks yes she stayed till her due date. For me it was sometimes twice a day. I went to see her every day. And I wonder how would I do that if I had a baby at home already, who would pay the price here. I think that they are being very selfish and they should know to call it quits now. Josie had a lot more problems than my daughter and I am very doughtful that we will have another just due to health risks and not wanting to have to put another baby through that. I can tell you my NICU bill was $287,000 dollars for the time that she was there and she really had no problems and no syurgies. So sure they have health insurance but will they if she gets pregnant again?? Having a preemie is very expensive and they have to have private insurance as he is self employed, I would hate to see their rates. I know for just my daughter I pay $102 a month for a $3.000 deductible plan. The rate was higher because she had a heart mumur, it has fixed itself now, and had a duel ear infection. At some point it is not even about the money it is the well being of the child. It seems that most of the older kids take care of the younger ones anyway but they could still be without a mother which would be horrible if something happend to her. I take that in to consideration about having another one also as I was ok they were very conserned with the amount of blood that I lost. Would something bad happen next time do I want my daughter to grow up with out a mother? I really think that would be a lot worse than being an only child.

• United States
13 Aug 10
This is the sort of sense that the Duggars don't seem to be able to see. It frightens me. Josie needs full time attention of her mother, not a mother pregnant and focused on the next possible preemie.