Some Filipino workers in HK are being fired

Philippines
August 25, 2010 12:09am CST
i heard in the radio news that many filipino workers are complaining in the Philippine Embassy that they are being treated differently by their employers since Monday. And 1 OFW was given 1 month noticed by her employer to find a new job. what do you think? Well for me, we cant blame them after what happened last monday. But I hope this will change soon or back to normal. Many filipinos are going to HK whether business or pleasure trip. Do you think HK will treat us differently? Are you scared to go to HK or any Chinese territory places? Honestly, I am.
8 responses

• Philippines
25 Aug 10
Well I certainly hope relation with HK will be restored back to normal soon because we are not to be blamed for that one single act of a deranged policeman. I think it was an unfortunate event that this happened and our OFWs should not be taken against this. But since we are at their mercy I guess they can economically sabotage us for this incident.

• Philippines
25 Aug 10
It's a pity that some hongkong employers treat the household servants as if it they are the ones who killed the hostages. This only goes to show that there are people in this world who are so shallow minded. I for one would still like to visit hongkong but with what's happening now, i would rather spend time somewhere else. What's the use of going on vacation to Hongkong when you can feel the people's hatred towards you? I would consider that even more dangerous. What happened to their countrymen was just an isolated incident. i can't blame some of them to feel angry that's why i would rather avoid any confrontation as much as possible until everyone gets to their senses and realize that the fault of Mendoza is the fault of all Filipinos.

• Philippines
26 Aug 10
@diogs
, yes, hongkong people have every right to get mad at how the situation was handled. I think that's where they are mad at the most, the incompetence of the police attributed mostly to their lack of training on this type of incident. The media on the other hand is partly to blame due it's very detailed report on what's going on which prompted mendoza to go on a shooting spree but then again who would have thought that he was monitoring everything? it could be a lapse in judgement in their part since everyone have forgotten that inside that bus was a man who probably knew more than those who surrounded him. The hongkong people may probably understand if mendoza was a terrorist but he's not, he was a high ranking police officer who just want to call the authorities attention to let his case be heard. I'm sure he didn't want to kill anybody but despite the lapses of everyone who were involved in that incident whether directly or indirectly it was just a snowball effect of what mendoza has started. Hongkong people have every right to demand justice from our government but it should not be to the extent of taking it against their DH who i 'm sure doesn't even have a clue when the incident happened.

• Philippines
26 Aug 10
It was an isolated incident, alright, but what really angered them was the way things were handled. Think about this - if the situation has been handled well, if the government were prepared and sympathetic to the HK citizens, would they have reacted as much as they react now? I fear for all our OFWs there who are taking the brunt of their anger, as much as I grieve with the HK citizens. And, maybe a lot are acting on their emotions right now, but, everyone will eventually calm down. For the mean time, we should pray for everyone - peace and for those who have lost the people they love, forgiveness and understanding for the other people in HK, and safety for our fellow Filipinos there.


• Philippines
25 Aug 10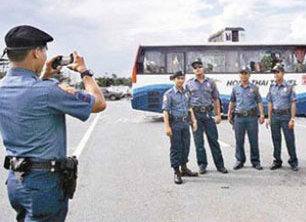 There goes the
Back-Lash
What can i say, i am so deeply hurt and depressed. i think those other moron Filipinos pretending to be chinese or hongkong people are behind this. i was there in face book last night i noticed a lot of trolls who pretends that they're from china or hongkong. then, some filipinos are making insult back on the fan page of Noynoy.this is trouble.

• Philippines
25 Aug 10
i think many filipinos are mad too on how the officials react on the situation, how they handled it. you can even see it here in mylot. many of us are disappointed and ashamed of what happened last monday. so we can not blame if most of us are mad.

• Philippines
26 Aug 10
It's a natural reaction and that's what we are all afraid of but we really can't blame them. Let's just pray for both Chinese and Filipino people


• Philippines
25 Aug 10
yes it is true. it s wrong to discriminate and to generalize things. but this is reality. we hurt them badly. and we are sorry for what 1 person did. but still what he did was wrong. and if we are in their shoes i think we will feel the same way.

• Philippines
25 Aug 10
I'm not scared to go there what I'm scaring for is our workers used to work for them. I'm praying to God that nothing will gonna happen to all fellow Filipino workers

• Philippines
25 Aug 10
I just hope nothing bad will happen to them. it is okay to get fired that is why they are giving them 1 month to find a new job.

• Philippines
26 Aug 10
I am not afraid of going to China, Taiwan or in Hongkong. I mean, whatever happened here in the country is not what we all wanted. It was a terrible freak show of some former police and Our people should not ahve to take the wrath, the blame of the Chineses. They too would know what a desperate person is capable of doing, i believe though that we all should not penalize someone for just being the same race as the person who did something wrong. Its just not appropriate. I believe that some Chineses are just being emotional about this situation, when they realize that it is not their Pinoy helpers' fault, they will regret their decision of acting by their emotions so quickly.

• Philippines
26 Aug 10
this is just too much. it seemed that life in hongkong for the FIlipino people will never be the same again. we've been victim of racism and violence throughout the entire asian countries. and this undoubtedly made it worse.