Indonesian baby on 40 cigarettes a day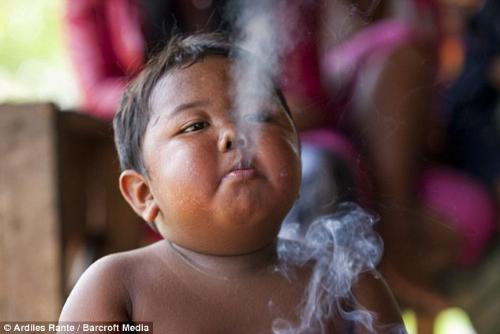 United States
August 27, 2010 12:31am CST
http://www.youtube.com/watch?v=x4c_wI6kQyE I was watching the news earlier and the news about a 2 year old baby really shocked me. I searched the video in Youtube and the parents are letting their baby to smoke 2 packs a day. Please watch the video and tell me what you think.
4 responses

• Philippines
27 Aug 10
You just watched it earlier? That news has been around atleast 3 months ago.

anyway, it is bad news, but i think the kid kinda look cute while smoking


• United States
27 Aug 10
Sad to say yes, because I'm always working out of town and I just got home. I have no time to watch TV when I'm out-of-town and this really shocked me to the bones. He's cute, but seeing him smoking is not. I just can't understand what kind of parents he have. It's the sickest thing I've ever seen in my entire life.

• Indonesia
27 Aug 10
I have watched this earlier and I really think that this is bad. I mean, you can't let a child smoke that much. It could kill him. I am a smoker too, but I won't let my children to smoke at that age. There is an age limit for smoker in Indonesia, and it is 18 years old. Anyone who lets the child smoking at that age should be punished with children protection law. And I really don't understand what was in his parents mind, letting a little kid smoking like that.

• Mauritius
28 Aug 10
It is definitely a very sad news. The parents are taking pride on the life of their child. They are simply exploiting the child. Could they be getting money from that? If yes, then there is matter for a case at the child protection associations worldwide.

• Philippines
27 Aug 10
It's really sad hearing about stories like this.