Cannavaro the most good football player in this year??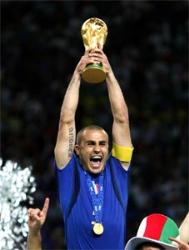 Italy
November 17, 2006 10:00am CST
Cannavaro is near for take the Adidas Golden Ball Award, for the recent Fifa World Cup. The adidas Golden Ball award is presented to the outstanding player at each FIFA World Cup finals, with a shortlist drawn up by the FIFA technical committee and the winner voted for by representatives of the media. Do you think Cannavaro is the most good football player??? What do you think about Henry??
1 response

• Italy
18 Nov 06
An Italian me seems just who gains the gold football, cannavaro has been one of the best ones to the World-Cup one for Italy and since we have gained the world-cup one, voting has given it he (at least from whom it seems), makes it appeal to me that Cannavaro wins it....and other champions would deserve it are will even gain it in future,ma are important that has gained it a defender, since they come considers little important you of the goleador in this prize, solo in 2 before he have gained Beckenbauer and Sammer.