Why are you proud of your child?

September 12, 2010 4:34pm CST
As a parent, as all parents, I am quite proud of my daughter, adore her and love her to bits. I am particular proud of her good eating habits, she loves fruits and veg, though I really dont know whether I can give myself a pat for that or whether its down to her genes-her dad is crazy with fruits and veg. The other thing I find is great, that she always finds a way to communicate with other people. However, she has her naugthy sides as well. One particular worries me- she scratches me and hubby when is not happy about something:(. I just hope its an age thing. What about you? Which areas are you proud of your child? And in which areas are wiching for some improvement.
9 responses

• United States
23 Sep 10
The main reason that I am proud of both of my children is because of the fact that they are both very intelligent. It also makes me very proud of my daughter in the fact that she is a very compassionate person, she worries a lot about people when they don't feel well and I think that is a good thing and it makes me very proud of her that she isn't a really selfish person. I'm proud of my son in that he is making a lot of strides toward being a good student when he gets to start school in a couple years.

• United Kingdom
14 Sep 10
I am proud of my baby daughter. She is going to soon able to walk because she is trying so hard. I am very proud of my disabled son for getting used to going to a pre-school. He has already made great progress at a playgroup for disabled children. I am proud of my teenage son for he has done very well in his exams. Some of the exams are important for his future. I would like my daughter and toddler son to share toys and take turns when playing games. I am keen to hear my toddler son's language develop. I would like my teenage son decide on a career choice for the future. Then he will find it easier to choose his A Level subjects. My teenage son and my baby daughter are normal. I am especially proud of my toddler son because he has worked hard to be able to move. When he was born I thought he would just lay still. Now he has learned how to sit up, crawl around and talk. I won't ever be able to walk. His legs are weak and so I notice how wonderful he is with his hands.

• United States
14 Sep 10
I love my little man so much and he just turned two not too long ago. He is doing everything you would think he is supposed to do at this point. I am proud that he took to potty training so quickly but now I noticed a bit of an issue with the way he speaks. He says certain words fine (some of them are not child appropriate. So my fault) but then he goes off into a ramble that sounds like growling. I love my baby though and regardless of the weird stuff he does, he is still my little prince. I just think now I have to find out about speech therapy or something...


• United States
13 Sep 10
I'm proud of my children because they are my children, first of all; then, because they are kind and loving people. Each one is unique with talents all his or her own. Each one respects the rights of others to be in this world-and each one was taught to be generous, helpful, kind and loving...and, as far as I know, each one of them is just that kind of person. I've not heard otherwise. That is what I'm most proud of them for.

• India
14 Sep 10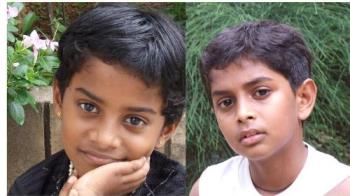 Hi dear, I am proud about both my children. The most things I like about them is, they both love each other very much. They both are caring each other. They understand each other and both my children love so much us, the parents. The elder is boy aged 14 and younger, 11 year old girl child. There are more reasons why I love them much is, they are growing the way I wished about them. I have given the best freedom and I have made a nice friendly relation and with controlled freedom in everything. They show their smartness in studies and excelled in studies in all subjects. I appreciate them for several reasons. They are understand their parents very well. They cooperate with us in all our different circumstances. The realize that they are and what we are. They know how to behave in a group and society. Many teachers called up and specially appreciated their behavior and character in their absence. I am very much happy as they got me. I always share my happiness alongwith them. A silent proud about them is the inner happiness what I get all the times. All have good things to talk about them, that itself give me a feeling of a good father. Regards, Thank-s

• China
13 Sep 10
I'm unmarried, so I know nothing about child. But my parents have always been very proud of her four kids, which I believe, is a natural feeling for all parents. Watching their beloved children growing up and developing in all aspects gives them a feeling of satisfaction and felicity.

• Malaysia
13 Sep 10
Haven't had a child but I am sure when I become one I am sure to be proud of him/her. This is what the parents always do and they hope they can be somewhat they did that make you so proud of them. I wonder when will I had a chance having to see and feel this situation.