fav. ride and what ride could you not do without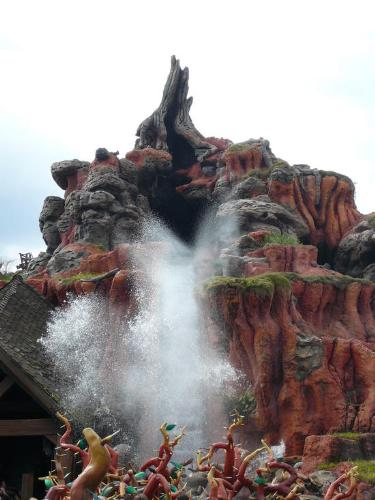 September 18, 2010 1:24pm CST
if you have ever gone to disney world then you most likely have a favorite ride. my favorite ride, well i dont have a favorite ride i have a tie between three rides.Splash Mountain,Thunder Mountain, and Space Mountain.But my main fav. is splash mnt whenever most people already know what rides they want to ride.But what if they get there and ther most favorite is closed.well if one of mine was closed id be okay because i hve the other two. so what is your favorite ride? what ride would you not be able to do without?
4 responses

• United Kingdom
30 Dec 10
Fav ride at magic Kingdom is Splash Mountain Fav ride at Epcot is Soarin' Fav ride at Hollywood Studio's is Tower of Terror Fav ride at Animal Kingdom is Kilimanjaro Safari. Splash was closed when we were there in Feb, but we knew that and it was the only time we could go. besides it was way to cold for any waterrides!

• United States
25 Oct 10
Hahaha. Funny story. Just got back from my first trip to Disney World...we were on the plane back and I was thinking back at all we had done and it hit me. "AMY!" She kinda freaked out. "What? What did we forget at the hotel?" "There are three mountains at Disney World...we missed all three of them!!!!" We both laughed at ourselves for that one. So, since we missed the mountains I am going to say that Expedition Everest was my favorite.

• United States
19 Sep 10
My favorite ride at Disney World would have to be "Splash Mountain" and , yes many may laugh, but "It's a Small World." I really enjoy the characters right before you go down the mountain on Splash Mountain and I really enjoy the song of It's a small World and seeing all of the Dolls. If my rides were closed I'd be bummed, but not get too bummed because there are so many cool rides at Disney!

• United States
19 Sep 10
It would be impossible for me to pick just one or two or even three favorite rides at Disney World. I have favorite must dos at each park. At Magic Kingdom, there are probably the most must dos. There's Splash Mountain, Space Mountain(which was being remodeled my last trip and made me sad

), Haunted Mansion, Pirates, and Buzz Lightyear. At Epcot, I love Test Track and Soarin, plus Spaceship Earth for tradition. At Animal Kingdom, the Safari, Kali RIver Rapids, and for sure...Expedition Everest. Finally, at Hollywood Studios, there's Tower of Terror, Rock n Roller Coaster, and Toy Story Midway Mania. That's just the rides, there are also several shows and parades and night time spectaculars (Fantasmic anyone) that I have to see each trip. Can you tell I'm a fan?