Do you decorate for Halloween?

United States
September 21, 2010 10:04am CST
Since Halloween is the next holiday coming up, I was wondering if you decorated for Halloween or not? If you do, do you go all out and decorate your whole house? If you don't decorate, why not? As for me, I decorate for Halloween and I go all out. I love seeing the kids get excited when they walk up to our house for candy. We have it fun for the little kids early in the evening, and then start to get scarier for the big kids/teens later on. We usually have someone jump out at them haha. We play Halloween music for everyone to hear, and we just have a blast.
2 responses

• United States
21 Sep 10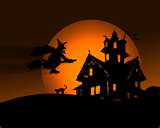 Halloween for some reason was my biggest and most fun time of the year. Especially when my children were little. I do a little now, and not so much as before but it is so much fun to watch the children go door to door with their so cute and scary costumes.

• United States
22 Sep 10
It is so much fun at Halloween time. I just love to see all the kids in their costumes. It reminds me of when I was a kid going trick or treating.

• United States
21 Sep 10
I love decorating for halloween, its the most fun holiday to decorate for in my opinion. We don't get many trick-or-treaters around here but lots of people can see the house so I still love to decorate.