Trying to save money so I....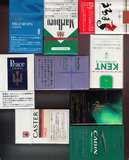 United States
September 27, 2010 9:04am CST
Have started rolling my own cigarettes. Ok, smoking is a bad habit but it is my only vice and it's just something I enjoy. I bought a little rolling machine for $7, a box of 200 filter holdes is $4.99 and a bag of tobacco costs me $16. They come in handy at the end of the month when I'm broke and can't afford to buy a pack. Their not great because I'm still experimenting on rolling them but their good in a pinch. If your a smoker have you ever tried rolling your own cigarettes? Do you find that you save money by doing it? Are you good at it?
2 responses


• United States
3 Oct 10
Amazingly enough they now sell papers with the filters on them.