My night at the Ball . .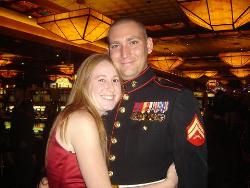 United States
November 17, 2006 9:42pm CST
was FANTASTIC!!!! We had an absolute BLAST!!! I got to meet everyone from Ben's unit that I've talked to on the phone so now I have a face to the voice! I got to see so many of my friends that I never get to see. We had a great time. The guest speaker was a retired Sgt Major who gave the greatest speech . . .he was hilarious too! He was giving his speech when he was like "I'm going to tame the language because of all the beautiful women in here . . .so . . when the defication hit the ventilation . . ." OMG everyone in the ballroom died laughing and there must have been 1000 people in there!!! Then at the end of his speech, he went to thank the Capt who introduced him and he couldn't remember his name!!!! The poor old man could remember a 45 minute speech, but not the Cpt's name!! Then everyone just let loose. Everyone danced and gambled and drank and laughed . . .it was an awesome night!!
5 responses


• United States
19 Nov 06
they are always so much fun I ve been to about 10 balls= ) did not get to go this year= ( Hubby is deployed

• United States
19 Nov 06
So nice to hear you enjoyed the ball! It really is quite an event. I've also helped plan balls and that too is fun and makes the evening even more special.

• United States
19 Nov 06
I have been to a couple military balls. It was fun and I am glad you were able to enjoy it too. Being in the same room with so many wonderful people helps to make it even more enjoyable!

• United States
18 Nov 06
I had a chance to go once to Marine Ball, I guess It was about 5 years ago. Even my hubby do not like marines so much - no, not personally, but because he is army:) And you know that GO ARMY, BEAT NAVY. But I can say balls are always very nice thing no matter for what cause it is, so I hope you enjoyed. Cause we did:) Good luck!