Have you heard of Spadigum Mala ??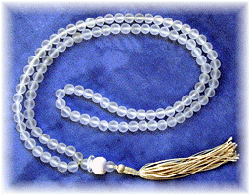 India
November 9, 2010 5:43pm CST
Hi friends,

Spadigam is a mala which can be worn around the neck. The spadigam keeps our body cool by absorbing heat . It keeps our anger and tension low too. Do you believe that it as these properties said are true? How to find a spadigam malai is original or duplicate while buying ? How much a single malai cost?
4 responses

• China
10 Nov 10
It's my first time heard the magical item and it must be very expensive if all these properties are true!I only heard some stone like jade,in chinese we called 'yu'can improve your healthy if you wore it. Finally,can you tell me how to add a facial icon like confusion or smile expressions when you start or reply a discussion?I am a fresh mylotter.Thanks in advance.

• India
12 Nov 10

After you reach 200 decision it will be available for you to use



• India
10 Nov 10
i have heard of it but there are some proof of it saying it maintains our body cool. but it works only with original one. the real spadigam costs morethan thousands and it is rare. there are certain special features to find a real spadigam. when two original spadigam are made to contact it creates a spark of fire. it gives a rainbow colour when it is held in the sunrays the size of spadigam reduces as it is used day by day. these are the features which proves spadigam as real one.