Tree Lighting

Canada
6 responses

• Canada
20 Nov 10
Well, I live in Canada as well....so our traditions are probably the same. Our little village is having a tree lighting this Friday night....the Santa parade the next day. my son is involved in Air Cadets, so he is involved with the Holiday festivities as well. Have a great Christmas.

• Philippines
19 Dec 11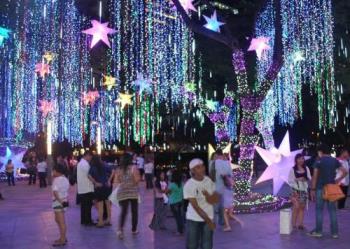 Well here in our place, the trees are all light up. It looks almost like rains of different colors at night and it is such a fantastic sight. People gather around and enjoying the whole atmosphere of colorful lights around. How I wish it is Christmas all day long.


• United States
21 Nov 10
Right now all that is happening here is they start putting up lights and decorations for Thanksgiving and Christmas. Then around Christmas we have a couple of parades, but as far as that there is really nothing else here.

• Philippines
21 Nov 10
We also have our decorations up as well. I'm not really up to these cuz it's gonna be tedious taking them out after new year. We don't have any special parades out here. We only have the night before christmas or 'media noche' which is similar to new year but without fireworks.

•
20 Nov 10
There isn't really any parades around where i live, but we do have a few places that theres santas grottos for kids to go to and see santa... some are free and some you have to pay abit for. There are decorations up in towns and citys and most parts of the areas where they have a few shops aswell so it looks all decorative and nice with the lights at night time or when it gets dark. Most people put a tree up in their house and decorations up in and out their house to celebrate the christmas season. We enjoy doing that ourselves too.

• United States
20 Nov 10
Pretty much as the same as yours as our City hall has a gigantic tree lighting. Where as many people gather for the official lighting of the tree. It is a big event one have been to many times.