What is the name of your pet?

India
8 responses

•
22 Nov 10
Hi dante_off! I love pets too. The name of our puppy is Vickie. We didn't actually name her because she was already named when we got her from the dog pound/kennels at Dogs Trust. She is really lovely and friendly to everyone who comes by to visit. Funny thing is, the day we asked for her name, me and my fiancee laughed because my fiancee's name is Vic. It's like she was named after him. :)

• United States
22 Nov 10
We once had a family dog that we named yoyo. Her taill was curled up like...well, like one of those little wrist slap brackets that were popular at one time in high school. We got the dog before I became aware of those bracelets. If I had known of their existence, we probably would have called her slappy or something. I guess it all worked out in the end. Slappy isn't isn't really that fun of a name now that i think bout it. It's a lot better that Measuring tape, which was the name my father suggested at first. I laughed my head off because I thought he was joking. he seemed pretty satisfied with the compromise we all came up with. I said if her tail measures 6 inches even, he could have her help with whatever he needs measured at any given time. Yoyo didn't cooperate much. I think she may have joined a union of some sort shortly after we settled on a name.

• Canada
22 Nov 10
I have a cat, a very intelligent cat, I must say. I have named him Jessy. I sense that he knows his name. When I call him saying the name, he would just rush towards me. A really intelligent guy ! Yeah, he is like a member of the family, more than just a pet !

• United States
22 Nov 10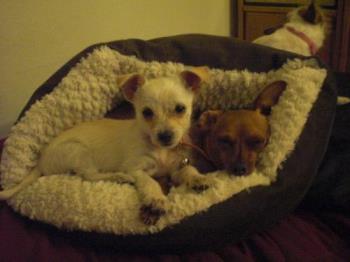 Dogs: Xoa, Stormy, Riley, Lily Frog: Momo (short for Mors Mortis) Hamsters: Skull, Bones Gerbil: Libreg


• Thailand
22 Nov 10
I have 2 dogs and 1 cat in my home. I love them very much but I don't name it. I think naming my pet is good but I don't because I think loving them is enough!


• Indonesia
22 Nov 10
my boyfriend's dog named chiko, it is golden retriever. and aldo for the dalmatian. and my dog name's for the male is moppy.