Do You Think What "www" Stands For ? China

China
November 21, 2010 11:56pm CST
Hello .Mlotters : Now i just have a good idea about what "www" may stand for . of course it's my personal opinion . as a mylotter from China .i think "www" might stand for "wuwangwo" in the chinese language ,it means "never forget me " or "always remember me " in english . when i type a URL in one search engine and when i choose the chinese input method by mistake ,"www" will be translated into "wuwangwo" . by the way ,"wowangwo" is the name of one kind of flower in China .it represents the eternal memory ."wuwangwo" the flower doesn't smell .but i can say : "that smell of life ,there is nothing like it !" so what's your opinion ? just to share ..
11 responses


• China
23 Nov 10
i know it stands for world wide web,i just want to find something interesting and creative about www. life is supposed to be full of fun .so we get it ..

• Australia
22 Nov 10
wow... i only know that www stands for world wide web until now... and now that you tell me a new meaning to it... i know how to speak mandarin... so in understand what wuwangwo means in mandarin... very beautiful... thanks for sharing this knowledge with us here... take care and have a nice day...

• China
22 Nov 10
haha.i just tell what my mind is on . i find that your nickname is also spelt in the chinese language . so welcome to China !

• China
22 Nov 10
mou mong ngo in Cantonese, Forget me not flowers are also known as myosotis, Forget me nots grow in clusters of little flowers that have five petals and a tiny yellow in the middle of it. I like myosotis ;-) well I do know about www means World Wide Web ;-) but www for short meanings must also have a lot of other words for short, and I guess there is no 100% right for answers,haha

• China
22 Nov 10
you are so familiar with the flower :forget me not . so you are one baby cat .

• India
22 Nov 10
WWW = World Wide Web! but never know there are many meaning that you have discovered. :)

• China
22 Nov 10
yeah,you are right ,www stands for world wide web. but i don't think it's the proper one . it's basic terminology ,but it's just something lack of emotions to the general population . wuwangwo or rather forget me not should be more suitable for our taste ..

• India
22 Nov 10
Wow seems you have found a new meaning for the officially recognized world wide web. I didn't know that www can stand for this also. All this time i was thinking that it is world wide web only. Always remember me huh? Well that doesn't go to well or to say ironical because i use the net everyday and so do many others don't we? Cheers!


• China
22 Nov 10
hello .thank you for your share . it's just one interesting topic ,maybe it's one new meaning that only appealed to me .

• Romania
22 Nov 10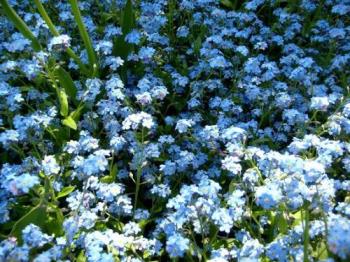 I'm sure you already knew what www stands for. But it was nice to share the words that come to your mind when you type www. You made me curious with the wowangwo flower, I did some research and I find it is a wonderful flower. In my language there aren't any words that contains the letter W, so I always think about WordWideWeb when I type www. But we, too, have a "never forget me" flower as you have. It is small and it doesn't smell, but it has beautiful little blue flowers.

• China
22 Nov 10
yeah,it's the one .thanks for your picture . wuwangwo ,forget-me-not ,and another nice name in your language .


• Malaysia
22 Nov 10
WWW meanings..hmmm... 1.world wide web 2.world wide war 3.win win win


• United States
23 Nov 10
WWW stands for world wide web, considering the Internet can be accessed from anywhere in the world. Of course, "world wide web" translated into another language can mean something totally different.