Putting Christ Back in Christmas......Xmas (YUK)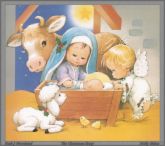 Portugal
10 responses

• United States
24 Nov 06
Yes, and whenever I see Christmas written as Xmas I always say "Put Christ back in Christmas". I've never forgotten that over the years. I think many people are lazy and just don't want to take the time to type out the whole word.

• United States
24 Nov 06
I don't like abbreviations like Xmas either, and I'm not even Christian. Isn't Christ really born on another day though? People will do anything to shorten words. I made a thread about how much I hated chatspeak, but no one replied to it. While Xmas isn't really chatspeak, I think it's kind of the same idea.

• Portugal
25 Nov 06
Okay Pigglies. you have made my day....I have learned something. For some reason or other I had truthfully never read or heard anything about the changing of the dates. Thank you so much for filling me in....I appreciate it. I will not make the mistake again for putting my foot in my mouth about thinking that it was a prank.


• United States
24 Nov 06
That is a great question. Jesus is the reason for the season.

• Portugal
25 Nov 06

As I have been reading these comments a thought has been going through my head. In the Eastern Christian churches (Russian and Greek Orthodox) there Christmas is celebrated on the 6th of January...day of the Epiphany when the three wise men brought their gifts to the Christ Child. Now why couldn't the Western Christians do the same....observe Christmas as a meaningful holy day and Epiphany as the day for exchanging gifts. That might make a good posting for someone. At least the birthday could be celebrated with the turkey and all the goodies but in reverence to the occasion. Doing away with presents would, God forbid, probably be hard on the economy of the holiday season, but transferring it to January it would maintain the status quo. Just a thought folks, I am not a crusader looking for a cause....just thinking on the keyboard.

• Australia
30 Dec 06
I used to feel the same way as you gifana until a Greek friend told me that the "X" is used by them to signify Christ, so I stopped complaining. LOL However I still write Christmas as that is what I was taught when I was younger. Eventhough we celebrate the birth of Christ on the 25th December, this is not the correct date. In our family, we do celebrate the birth of Christ, go to midnight Mass as a family etc.

• Portugal
30 Dec 06
I, too, in this discussion learned about the Greeks and it gave me time to ponder the issue. I will honor the Greeks in their use of Xmas, of course, but I'm not that sure that all the people who use Xmas do it for that reason. However, like you I will continue to refer to it as Christmas... Thanks for dropping by and for your input. Always nice to see you.


• Portugal
30 Dec 06
Certainly that is your perogative. We all at one time or another like to speed things up by using abbreviations but I feel in some cases it is not appropriate. But then again I feel that each generation changes customs and traditions. My personal feeling is that Christmas is more appropriate. Thanks for dropping by. PS forgive me for taking so long to respond. I must have missed it the first time around and only now reviewing the responses did I pick it up.

• Canada
25 Nov 06
me i font believe in god but i celebrate with my family anyways because we get together and show our apperation for onantoher even thought i have all my cousins and i site in my room with my gf all day lol i dont like them because they are preppy

• United States
25 Nov 06
The Greek alphabet uses the X to symbolize Christ - therefore a lot of people write it as X-mas and they don't (generally) mean any disrespect. Some may find it a simplified way of writing it, and some were taught to do it that way. My mother was a very devout Christian - she taught Sunday School her entire adult life - and she always wrote it X-mas, so that's what I do. Jesus was not born on the 25th of December, he was probably born sometime in early spring. The early church decided to celebrate the birth of Jesus at about the same time that people were used to celebrating the Winter Solstice, considered to be a Pagan Festival, in an attempt to make them more comfortable with the new religion of Christianity. Merry Yuletide, y'all.

• Portugal
25 Nov 06
A wonderful response and so informative. I believe I will think twice before criticizing someone for using Xmas. And the explanation of the 25th of December is also enlightening, at least to me. I have learned quite a bit from this posting although it seems my thinking which out of sync. Thank you so much for this explanation and making my day....this is the second time today that someone has taught me something worthy. I'm sure that if the others that have responded will also appreciate your response. Again, thank you

• Denmark
24 Nov 06
yes,you are right,we shouldn't forget what christmas is all about..we tend to make it a party,and forget it's real meaning

• United States
18 Nov 06
Well, that is what I celebrate, but some people just join in for the presents and family get togethers. In my family we make sure everyone understands the true meaning of the holiday by baking the baby Jesus a birthday cake and having a party. I also set up nativity scenes and read nativity stories to my children. What traditions does your family have?

• Portugal
18 Nov 06

Unfortunately I am separated from my Family in the States plus all my parents have passed on (had three stepfathers as mother was widowned twice). But when I was young we always paid attention to the meaning of Christmas....I remember we would Thank God for our gifts before we could open them. It was during WWII and presents were usually new clothes and shoes. My brother and I got 1 game each, and of course there were always a new book or too. For Christmas dinner we went to the grandparents for dinner which we did both for Christmas and Thanksgiving.....first at fathers parents then at mother's parents....following year it would be reversed...that way each set of grandparents would have us every other year for each holidy. We had fun especially both sets of my grandparents lived in the country. My paternal grandfather who was a widow had neither electricity or indoor plumbing. You can imagine going to an outhouse in the middle of the winter with the north wind blowing up through the opening. Wonderful memories...

• United States
25 Nov 06
I remember the walk along a snowy path that led to the backyard. The place where the outhouse stood. Someone would always walk with the youngsters. They held the flashlight.