Michelle Obama's Black Vintage Dress for "Christmas in Washington". Like it?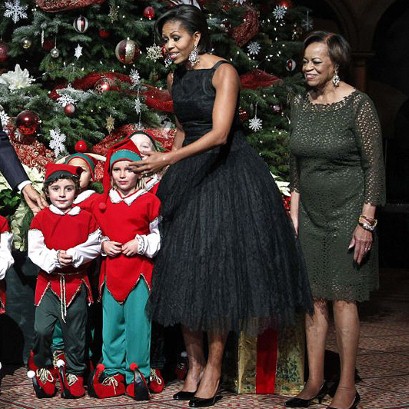 Philippines
December 18, 2010 7:25pm CST
Though she plays the part of being a fashionable first lady I still think that Mrs. Obama doesn't care too much about fashion (other than use it to make herself presentable). She doesn't mind over-the- counter looks like those from J. Crew and is known to support new and upcoming fashion designers, buy from established fashion houses and is now a proponent in wearing vintage. Trapped in a world, though not quite different from ours, wherein women are judged by how we look and what we wear the former lawyer and now America's first lady is living the part well. Though some accomplished women would've succumbed to a mental breakdown of some sort she is a walking how-to for mothers who want to look glamorous yet dignified. In a recent public event Mrs. Obama wore a square-necked couture vintage with a black tea-length tulle skirt overlay. Created at around 1950 by Norman Norell - it's branded yet old and naturally formerly owned by somone else. It was bought at "New York Vintage" at around $2,500. I like it. Do you?
3 responses

• United States
29 Dec 10
From what I have seen her in for the past 3 years...she is trying to look all "Jackie O" but is failing miserably. She just doesn't have the body structure or personality to carry off some of the more fashionable clothes she tries to wear. She should just stick to the normal "Macy's" or "JC Penney" clothes and I think she'd look much better. SHe's the first First Lady to be seen in shorts out in public..at least to my knowledge. Sorry, that just isn't something that can be fashionable and being the first lady, you are supposed to be fashionable.But then again, times are changing and the "dressy" look is very much more casual these days than it used to be so maybe she is just changing the stature of the position...dressing it down. I could care less. I thought Hillary Clinton dressed it down pretty well... her and her polyester (at least they looked like it) pant suits that were short to her ankle length.

• Philippines
30 Dec 10
i agree with you. am a fan of jackie o. and when they started dubbing michelle obama as the new jackie heralding class in the white house and comparing her clothes to her i thought maybe it was just me who can't see the sameness. turns out that there is that great effort on michelle obama's part to look like the beloved woman of camelot. and yes, she does look better in jc penney clothes. it's not that it's cheaper it looks better on her. i think her real style emanates from those jc penney styles. i think if she just stuck to her jc penney styles she'd have the same imprint on fashion in the white house like what jackie o. had. however, she does look great in this black vintage no.

• United States
30 Dec 10
Thing is...our tax dollars are paying a huge high price for those clothes....that look like they were purchased at JC Penney. That's what disgusts me about it.


• Israel
6 Jan 11
I like it too, the dress is stunning and it looks really nice on her as well. I actually think she is rather interested in fashion, it seems like it to me anyway.