Harry Potter Muslim Star Beaten After Having a Relationship with Non-Muslim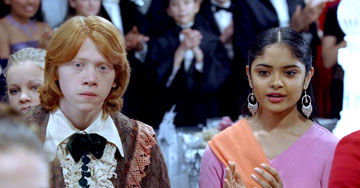 Philippines
December 20, 2010 10:25pm CST
Afshan Azad, 22, played Padma Patil who was a classmate of Harry Potter. She is currently embroiled in a very messy case of clashes of religion and modern culture which includes her very own family members. The gist of the story is Afshan fled her family home when she was called bad names by her brother at a violent confrontation that circled around Azad meeting a Hindu man that her family doesn't approve of. She then went to the police. Court charges against Afshan's father, Abdul, and brother, Ashraf, were making death threats to Afshan. Both were cleared yesterday after Afshan refused to attend court hearings due to her belief that this would put her more in "genuine danger". What do you make of this situation? No offense to anyone but if Afshan would reason out her beliefs which echoes more of her religion then I think she should've not entered showbusiness in the first place. It is a world of exposure and of being friendly with anyone and everyone. What do you say?
5 responses

• United States
22 Dec 10
And people still think Islam is a peaceful religion???

• Singapore
22 Dec 10
is lam is a peaceful religion. every religion is the same, they promote peace. its the parents and the country that made this happen.people often mistake this...mostly Christians because they think that they are superior for some reason i do not know. please do not be ignorant and check up on religious teachings before passing such comments on the internet.

• United States
23 Dec 10
Their actions speak louder than my words ever could...


• United States
21 Dec 10
That is so sad. There should be nothing wrong with dating or marrying outside of your race, religion or ethnic background. I have so many friends and family members who are married to people who are of different races and religions from themselves. It's what we do. To us, it's not a big deal, so long as no one is being abused or threatened. This is wrong. People should be allowed to love whoever they want to love. I don't think that it was wrong for her to enter show business, I think it is wrong that people persecute her for being with someone outside of her religion.

• Philippines
22 Dec 10
true. i think this strictness only belong to the muslims. no offense to anyone.

• United States
22 Dec 10
No, no offense either to anyone is of the Islamic faith, but seriously, we (human beings) don't actually choose who we fall in love with, it's rather random. Pheromones have a lot to do with who we fall in love with and for good reason (women tend to fall for men who will have a better immune system than their own, pheromone wise). I didn't choose to fall in love with the man I feel in love with (a. he was younger than me, and b. he was Irish and my track record was dating Latinos, Asians and Black men who were older than me, my point, you really can't choose who you fall in love with, it just happens). To anyone who is of the Islamic Faith, love is biological and pheromones, you don't choose who you marry and fall in love with, it just happens.

• Philippines
22 Dec 10
I think she should renounced her religion as it is causing her more pain and her family too. Her culture and her religion don't mix well in the showbiz world and this might cause her more burden someday. She has to choose one at least and make it work for her. I pity her for she doesn't seem to have the freedom to be herself at all and to fear your own family knowing that they are capable of killing you because of a belief is just so sad. I think I am misunderstanding something in here and I hope i don't offend anybody with this.

• Philippines
22 Dec 10
you're correct that her religion and work in show business don't mix. but i think her family should've not let her movie ambitions see that fruition (of being in a film) if they are really into their religion. surely her work in harry potter wasn't just luck for those who do castings surely settle for actors who have work experience or had extensive training in acting, correct?

• United States
21 Dec 10
Number one - she is TWENTY TWO YEARS OLD. She is an adult. Nothing she does including her job or career, her friends, who she has a relationship with etc etc is ANY OF HER FAMILY'S BUSINESS. Shame on her brother and shame on her father!! What rude disrespectful disgusting people to think they have ANY right to say anything about her life or choices or to THREATEN HER! Who cares if her family approves? It's NOT THEIR BUSINESS. I think she needs to stay away from them indefinitely. I hope she gets together with the man again and enjoys her career and they learn to butt out of things that do not concern them. I think they ought to be arrested for interfering in her life. SHE IS AN ADULT. They need to get over it.

• Philippines
22 Dec 10
thank you for responding. what you said first crossed my mind. all you said is true. however, they belong to a different religion and just like culture no one can question nor be more right that what other people believe in. so much so if it is religious beliefs they hold over anyone's head. my only argument with her family, is like what i mentioned in one of my replies is, showbusiness and conservative beliefs be from one's religion or culture don't mix. they should've not fed her appetite for showbusiness if they want her to stay true to their religion. no muslim, i believe, made it to hollywood. they are worlds apart and they don't mix. some indians made it but i believe it is because they are more lenient. no offense to anyone. peace.

• Australia
21 Dec 10
The muslim religion seems to be going under a lot of scrutiny recently. In Australia the burqa is to be banned due to many disputes over identity and racism. Myself, being not much of a believer, I think that religion is for the purpose of people to have faith in something, however the practitioners of such faiths are definitely taking their religion too far when they do things such as killing in the name of their god or abuse because it is against a book written by some man.

• Philippines
22 Dec 10
you're correct in everything you said. i think religion is more of a guide and not a way of life. but as with anything there are those who are fanatics. thanks for posting.