Should Sarah Palin be blamed and reprimanded for Gabrielle Giffords' shooting?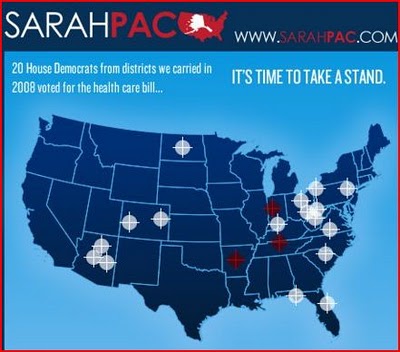 Zambia
January 9, 2011 3:37am CST
Last year, about March, Sarah Palin came up with a very graphic image with cross hairs in her campaign to oust the Democratic representatives that helped pass the health bill in the House. Less than a year after her despicable and quite uncouth way (I must add) of campaign, a gunman "snipes" out one of the lawmakers, Rep. Gabrielle Giffords, by fatally wounding her in the head and killing and wounding several others in the process. Should Sarah Palin be condemned (now) for her kind of figurative and graphic campaign methods. I am sure she has regretted, even quickly removed the graphic poster with sniper cross hairs marked on a map from her website. I am pretty sure she acknowledges how much responsibility she takes for her poor communication methods. What do you think?
6 responses

• United States
10 Jan 11
Here is a petition about that violent and vile sarah palin. She needs to be arrested. http://www.petitiononline.com/IndictSP/ If Muslims can be blamed and arrested for inciting riots and violence, so can that right wing lunatic, Palin, for enabling and encouraging a mentally ill person to do something so wretched. And, odd, free-speech loving fox news managed to cut this man's comments off their uh, "fair and balanced noise". http://www.youtube.com/watch?v=vADOhMGuats Go to 1:58 seconds. Oh, and someone, do tell, how was a mentally disabled person able to obtain a semi-automatic weapon? Was he using it to hunt game to eat? No. Was he using it to protect himself from getting carjacked? No. He used it to inflict harm on someone. Nice job, right wing. A 9-year-old girl lost her life. And people made money off selling the weapon that did it. The baggers are done, the GOP will roast themselves in two years. And karma will get Palin.


• United States
10 Jan 11
lil, I have the ability to watch news reports before I form judgments. This was a mentally unstable person who was fed false propaganda from the talking heads and given a map to who we should blame.

• United States
10 Jan 11
Reallly because he has hated her from some reason sence 2007 BEFORE alot of the recent BS started. Do a search engine they give get more information that the news on TV is giving. What I want to know is why no one that KNEW he was a danger and has been a danger to everyone did not get him help. It could have prevented this whole thing.


• United States
9 Jan 11
And here I was thinking the desperate left wingers would be trying to blame this on Bush. Seriously, this is a truly pathetic attempt to attack Sarah Palin. I'm amazed that some people could hate someone so much that they'll dig for ways to blame them for tragedies like this.

• Boston, Massachusetts
10 Jan 11
I did see one person blame Bush - they just knew when he took office terrible things would happen to this country. You know, at this point I don't see a remedy for this generation. They are going to have to reap what they sow. If there is time, perhaps a second or third generation might find their way back to the real America, but there may not be the opportunity to act freely by that time.

• United States
9 Jan 11
People are looking for excuses and trying to lay the blame elsewhere. It blame lies with the man that pulled the tigger. He did it. He is to blame. And there are excuses for what he did. I have heard he is crazy. He might be. He isn't completely crazy. His mind is working well enough that is not talking to the police and he is using his 5th amendment. Want to point a finger? Point it at the POS that killed 6 people and wounded several others.

• Sheboygan, Wisconsin
10 Jan 11
The question should be, should anyone who uses these murders for political gain be slapped around like the cowards they are?

• United States
9 Jan 11
While I do not like Palin and think she is an absolute joke of a politician even I have to shake my head at this one. Being an idiot (my opinion) does not make someone responsible for the actions of another. There are laws that state if Sarah Palin had actually done what was being suggested and incited the man to commit murder that she would be guilty, but looking at the evidence it would be a stretch for even an old fashioned posse in the old west to claim guilt on Palin for this one. Sorry, but I just don't see anything graphic or with the potential to incite another to harm democratic members of Congress in that image.

• United States
9 Jan 11
Hi Nickventere, I'm not a big fan of Sarah Palin but it sounds pretty drastic to blame her for the actions of this gunman. That's like blaming Superman for the guy that jumped off the building or any such other example. If a person can be that easily influenced into murdering someone by something like an image then the thoughts to do so were already there. This is no one's fault but the snipers.