What do you think?

United States
November 18, 2006 6:31pm CST
Can't make up my mind...I think this one is the best I found for avatars.
3 responses

• United States
19 Nov 06
Thought you were lost there for a while...where ya been? tank ya very very much.

• United States
19 Nov 06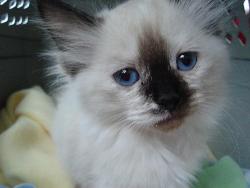 I've been really busy lately planning a surprise for my dad and sister. Yesterday was my dad's 50th birthday... and Thursday we had a "surprise party" for him. I was also giving my sister a kitten for Christmas, and it had to be given early because of a situation that came up with the breeder. My mom and I came up with an elaborate set of intertwining lies that caused my dad to basically plan his own surprise party (he thought we were just telling my sister about a party to cover up the kitten surprise and didn't expect anything real)... Everything turned out perfecty:)

• India
19 Nov 06
its good one from where u selected this?