Who is the best indian capatin of all times?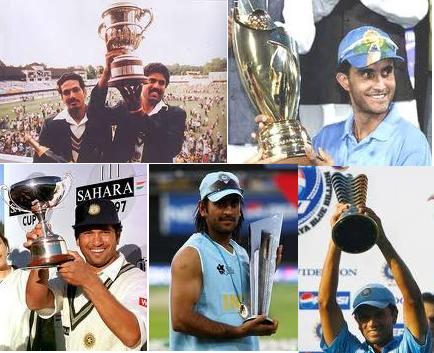 India
January 28, 2011 12:12pm CST
Kapil,Azar,Gangully,Sachin,Dravid,Dhoni all are indian captains of differnt era. They all having different records under their belt. Who is the best indian captain of all times?
4 responses

• India
12 Mar 11
I think All the above mentioned captains are the best..See Kapil Brought World Cup to India and Azhar also done the great captainship Sourav Ganguly Lifts the indian Teams By Bringing the Youngsters in the Side and Dhoni we know How cool He is and what he can do..Twenty 20 World Cup,Common wealth Bank series Win against Australia in Australia,Test No 1 team,ODI No 2 team are achieved under the captaincy of MS Dhoni

• India
3 Mar 11
I think mahendrasing dhoni is most successfull captain for indian team because we cant forget 20-20 worldcup.He was always cool during the game and most of time his straitagies always worked for team.Offcourse Kapil Dev gives worldcup to india but that time was so different compairing today.So I will give number one to dhoni, two-Kapil dev,three-Saurav ganguly,four-Azaruddin,five-dravid.I think Dravid is most failure captain for india after episode of Graig chepal.

• India
6 Feb 11
I dont know much about Kapil... But seeing the highlights of the matches of 1983 world cup... He surely seems a very good Captain.... But for me, Dhoni's the best.... Or atleast he was the best... Nowadays, he has lost the attacking nature in his field settings... If he can get that one thing right, then he's the best captain in the World...

• India
1 Feb 11
I think Kapil is the best captain on my eyes because India has own the World Cup at the time of Kapil Dev. I think Kapil Dev is more successful among all the captain. I think after the Kapil Dev , Doni is the successful one.