Do you think technology made us lazy species?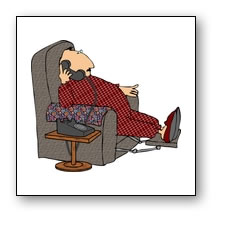 India
March 10, 2011 7:44am CST
I think we humans are now become edict of technology. How many we will go to the pizza shop while it will take just a phone call to bring it to our home. Even for entertainment we use electronic game instead of some real sports like football or cricket. Now we as the most intelligent species of this earth have become the laziest species too. What is your opinion?
4 responses

• Philippines
10 Mar 11
Laziest? Oh, definitely especially if you compare how we humans were then before the advent of technology. Technology's primary role is to make our life easier but in doing so, it made us a bit lazy. You're right, a lot of the things we did in the past we rarely do today. Even the basic use of a pen to write something. We now resort to using our laptops, netbooks, cellphones and the like.

• India
10 Mar 11
Now we can't remember our best friends birthday coz some computer or cell phone calendar does that for us.

• United States
10 Mar 11
I agree we have became lazy with things like elevators..cell phones...pay at the pump..don't even leave your house or car. Yes we have. But we could use this new technology to be healthier and do more. Things like video games are starting to turn around with active things like Kinect for xbox. We have one and it does get the kids off their butts more. I guess with intelligence may come some laziness. We have found out how to make things easier. But if all technology disappeared people would have so much trouble now surviving on our own. Because some of us may of forgot how.

• India
10 Mar 11
Yes that's true. If we do more physical things like walking playing out door games and workout Then we will become more healthier.

• Indonesia
10 Mar 11
technology brings the ease of man in work so that the time required to complete the work to be brief. but the technology also brings negative impact of dependence and can lead people to be lazy.

• Pakistan
10 Mar 11
Yes this is right that technology made us lazy. In ancient time people use to walk to go anywhere but now we have cars. People used games to entertain themselves now we have computer internet and TVs we sit in front of them and become lazy. But technology also give us many benefits like ease in life and comforts. I think everything has its profits and disadvantages too.