What is your roll in protecting our mother planet - EARTH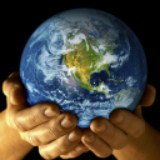 India
March 17, 2011 12:54am CST
She is going to a critical condition due to the activity of one type of creatures, human being. We are destroying earth starting from here outside and now approaching to here core. Only we, the human population are the cause for GLOBAL WARMING, DEFORESTATION, POLAR ICE MELTING, OZONE HOLE FORMATION and more over we POLLUTED AIR, WATER AND SOIL. We destroyed her virginity. Climate, plants, animals, fresh water steams all are affected. Yes. This is the time for re thinking and to promote and to give a hand to those active in environmental protection. I request you to do necessary things for protection of mother earth. You can reduce/avoid unwanted use of oil dependent vehicles...promote Eco-friendly vehicles.Reduce use of plastics.Use Eco-friendly bags for shopping and many more. Don't think that you are doing a small thing. When we are doing together, it will reduce pollutants considerably.
3 responses

• United States
17 Mar 11
Continuing our pattern of preserving and recycling friend. We do use only Eco-Friendly bags and try some of the Green products. We do dispose of all containers in the correct recycle bins. We have three, one for plastic, cans and paper. We routinely do this in our home. If all would do the same it think it would contribute to a safer and healthier Earth!

• India
17 Mar 11
Hi, Thank you. Nice to hear. Let me know the green products using in your home. How you dispose materials in recycle bin. Is there a centralized system on your place?

• United States
17 Mar 11
Certain organic foods and cleaning products. I also use vinegar or lime to clean as well. We have waste management, otherwise known as garbage men, who pick up the special containers and empty our bins and haul them to the appropriate facilities. They do so once per week.

• India
23 Mar 11
Nice to hear from you. I appreciate waste disposal system in your place. Is the same works in your villages?


• United States
17 Mar 11
Using electric moped instead of gas moped.

• Malaysia
29 Mar 11
Earth,our Earth is one only ,if we destroy it where we want to live.Moon?,always heated by meteorit.Mars?,also too.So ,we all together start to play our role to our Earth.Live Earth!!!x3