Enter the wonderful world of vacuum cleaners...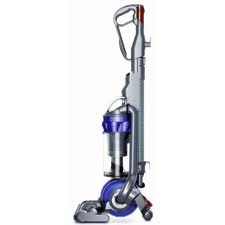 Canada
March 26, 2011 12:52pm CST
I was just lying around here trying to think of a topic to raise for a discussion, when this ad for a space age vacuum came on TV... I've worked in product development before, so I could appreciate people trying to improve the vacuum cleaner. On how they make it more modern so that it would be easier to use. But I could never get it. I'm not sure if there is a big market for this. Would there be a lot of people wanting to do this house chore? Of vacuuming? I know that it being space-age in design, it could make the chore easier, but vacuuming is still vacuuming. Am I right? Please correct me if I am wrong.
8 responses

• United States
31 Mar 11
Ha - vacuuming is still a pain no matter how fancy, cheap, expensive, whatever else the vacuum is. Although I did buy an awesome vacuum that does an awesome job - but its the biggest pain to get out and set up and clean out and put away... I REALLY liked the idea of the iRobot - I should look and see if they're still crazy expensive.. I like them. We have those at work, just charge it up, turn it on and go about your business! I thought those would take off a lot more then they did. I'd set mine in the morning before work and come home to a vacuumed house!!

• United States
1 Apr 11
Isn't that how it goes, the better it is the more worry some things seem to get.

• Canada
4 Apr 11
Hi shell! Nice to see you here again. I would like that iRobot too! I wish my living room was not made of carpet, but of hardwood so it could just easily come and go, during the day while I'm at work. Then maybe, a few years from now, an iLaundry could be developed. One which could also do the laundry while we're away!


• United States
30 Mar 11
If you have every not owned one or either had to sweep your carpets, you might end up like me and not mind, even though it does kinda suck, literally. I do like the though of the automated one but I don't like the thought of it not having eye to see that string that about to bind it up or the glass cabinets it uses to rebound it self. Although like you said Vacuuming is still vacuuming

• Shingle Springs, California
28 Mar 11
Can we make one that does the vacuuming by itself?

• Canada
30 Mar 11
There is always the Rumba, which does the vacuuming by itself. But I don't think it could go to everywhere you want it to go. And aside from being too small, I don't think it goes up and down stairs. I think the best ones are still the ones that come with the person holding it!


• United States
27 Mar 11
Like all products in the world marketers and researchers are going to pretty up just about any product on the market for sales. It certainly is up to the consumer to decide if this is done for practical purposes or simply to buy. I am all for practical but not so much into spending top dollar for a product that perhaps a cheaper one can do the same type of work and performance. So to me a vacuum is a vacuum no matter how they dress it up. lol


• Canada
30 Mar 11
I just realized that that is the market, and direction for vacuum cleaners! To make it easy to manuever! I'm not sure of how this 'ease' can work with how well it sucks up dire. And usually, the ones that are easy to manuever are the most expensive ones!

• United States
26 Mar 11
Until they create like a robot, or something where the vaccuum can work itself - I can't see how many more improvements can really be made in all honesty. I haven't seen any "space-age" type vaccuum commercials lately (although, I don't watch tv so maybe that's why.. ha). But yeah, like you said - in the end, it's still a chore, it's still work to be done. I don't actually mind vaccuuming. I like everything looking nice and clean.

• Canada
30 Mar 11
Actually, there is an iRobot vacuum called Rumba. I'm not so familiar with it, but it is supposed to work on its own. It's a flat, disk shaped vacuum that just goes around on the floor, everywhere. The problem with it, I think, is that it really doesn't go to nook and crannies. Or up and down the stairs. And I think it only has a small receptacle for storing all the dust.

• United States
26 Mar 11
Does it vacuum all by itself, and not allow itself to get clogged on large pieces of debris or clothing? Will it go up and down stairs on it's own, vacuuming them on the way.. as well as cleaning the furniture, removing stains, and even dusting the things around it? Will it empty itself? Does it have an indestructable belt? If not.. I'm not interested!