have you botted before?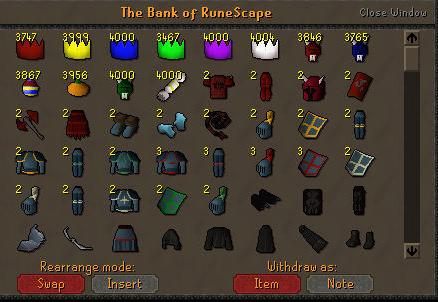 United States
March 28, 2011 10:16pm CST
I recently returned to play runescape again and saw that free trade was back. I got to put all my money on one of my accounts. I have been seeing a lot of botters though. I was wondering if you botted before? I am getting so tired of runescape I am thinking about botting.
7 responses


• United States
31 Mar 11
ooo lol i want to sell it but dont know anyone to buy it

• United States
31 Mar 11
Which is also against the rules. Why would someone want to buy one anyways. That's like paying someone to let you step in for the last plays after they've already all but won the game. I've got him in checkmate in 3 moves, pay me $20 & you can finish him off & do the victory dance.

How lame can you get?

• Philippines
4 Apr 11
A lot of people bot now, what people don't realize is that jagex will eventually be forced to go into bot checking again and again

• United States
24 Jun 11
Basically what JaGeX does is make you THINK that they're doing everything in their power to eliminate all bots in the game, but in my opinion, this is just a complete joke. If they were taking bot hunting seriously, bots would be gone by now. You'd be surprised how many legit bot-reports have been made, but have been unattended to. Personally, I've botted WoodCutting from 68-91, and right now I'm about 5.5 hours away from 92. It's been somewhere between 1-2 months since I started, and, despite how easy it may be to detect someone undergoing inhumane actions, I've been clear the entire time, no warnings. I say, if you really think it necessary, go for it. Just keep in mind that there are the few that are unfortunate enough to get caught by the couple JMods that properly take care of bot reports.

• Philippines
24 Jun 11
No matter how much I want to bot, I can't. I'm too afraid and worried that my account might be banned. I'm afraid to get caught and I don't know how to do that right. But I've always wanted to bot even before. I want to use it whenever I need to level up my skills like woodcutting or firemaking. I think firemaking is not really worth my time but I know that I need to advance in that skill. Sometime firemaking is boring that's why I want to use bot if I need to advance in firemaking.

• United States
19 Jun 11
I have never botted before, because I think it is too big of a risk to take for my account. Plus, I actually like playing the game myself. If I get bored, I simply switch skills or take on a new quest. I have a pretty decent member account and I like to do the new quests as they come out. I believe it's worth it to do it yourself and just enjoy the game experience, regardless of the tedium it can have sometimes.

• United States
18 Jun 11
I started botting, and I find it very useful. If you can't mine in a coal crowd, join them! I remember a time when I use to play for fun on Runescape, but now, it has gotten less fun for me, and more of a money making opportunity. I bot on runescape to make RSGP and sell it to people I know for money.

• United States
3 Apr 11
i play runescape, and i bot i see nothing wrong with it considering how long it takes to make money on it to get items. if you want to bot use epicbot or powebot. P.S. if that bank picture is real i would apreciate if u can give me a p hat considering it lookes like you have many to spare. Hit me up at eemmik
@gmail
.com