Damon or Stefan Salvatore?

Philippines
March 29, 2011 6:41pm CST
This question is for Vampire Diaries fanatics out there. If you were Elena Gilbert, who will you choose? The dashing debonair Damon or the knight in shining armor Stefan? They're both handsome and to each his own have qualities that you could keep but in the end only one will win Elena's heart. Who would it be for you?
5 responses

• Philippines
12 Apr 11
Damon Salvatore ftw! He's a gentleman when it comes to Elena. the episode where he compelled Elena is epic. -the episode where a tear came out in his eye. :)

• Philippines
9 Apr 11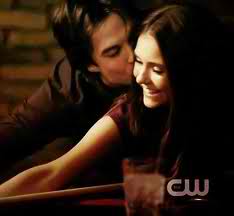 I would definitely want Elena to end up with Damon, they have chemistry and the way they exchange those lingering looks is oh so sweet! Stefan is a good choice too but I think his character is best suited for Katherine; Katherine's flirty and carefree attitude matches Stefan's reserved demeanor. Elena is pretty but her character is serious so Damon's couldn't-care-less-attitude would give life to her existence. Besides serious plus serious equals boring. lol


• Philippines
30 Mar 11
I am a vampire Diaries fanatic and Elena is just so gorgeous. I actually love Damon Salvatore as a character and as the actor but Stefan's character is quite romantic. If I were to choose, I might want Damon ending up with Catherine since he was so in love with Catherine in the first place before Elena came into the picture.

• Philippines
30 Mar 11
Damon! Had enough of goody-goody vampires though still love Edward