Does WalMart monopolize?


United States
November 19, 2006 10:01am CST
Toys R Us was once accusted of monopolizing the toy industry. But if a retailer extended that to all products, wouldn't that be true monopolizing? WalMart is the third largest seller of prescription medications. But with their announcement of starting a program with $4 generic medications, I believe their aim to to be #1 in prescription sales. Should WalMart be sued for monopolizing?
9 responses

• United States
19 Nov 06
Yes, the are monopolizing but whether they get sued or not remains to be seen though they should. Walmart has also gotten into big trouble for hiring illegal immigrants so it would not surprise me if they get sued.

• United States
19 Nov 06
Yes, they are monopolizing They are very corrupt and greedy.

• United States
20 Nov 06
I will be surprised if small companies do not ban together to sue WalMart together! WalMart prices are great for the consumer, but horrible for other companies.

• United States
17 Dec 06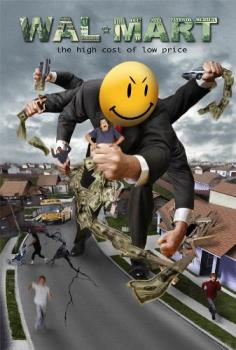 I do think that Wal-mart monopolizes. I think one day the government will have to step in and do something about it. There is a great documentry about Walmart and it's shadiness..."Walmart: The Hight Cost of Low Prices". I hate Walmart....

• Canada
19 Dec 06
I really want to see this documentary! It's supposed to be very good. Thanks for mentioning it! ~Wyrdsister

• Canada
19 Feb 07
i don't believe walmart is a monopoly. There are so many super stores same as walmart out there, at least in north america and all of them are very successful. super stores are the more popularity these days, and people love the fact that it's a one stop shop, and you can do all your errands in one place. In canada we have similiar stores like Canadian Superstore and Zellers, which are both just as popular as Walmart in the area. They should not be sued for monopolizing, as super stores are the new it item.

• Gambia
18 Feb 07
Yes they are monopolizing but not just on medication. They also sell groceries now.

• United States
18 Dec 06
Well first I had to do a little research on what monpolizing was, I had a good idea, but I wanted to be sure before I start rambling off stuff... A monopoly (from the Latin word monopolium - Greek language monos, one + polein, to sell) is defined as a persistent market situation where there is only one provider of a product or service. - Source Wikipedia (http://en.wikipedia.org/wiki/Monopoly) I would say based on this defination that Wal-Mart is not a monopoly, because there are other places that provide the same services that Wal-Mart provides. If I don't want to go to Wal-Mart I can go to Target (They are starting to do the $4 feneric medications too). Also... In standard economic theory (see analysis above), a monopoly will sell a lower quantity of goods at a higher price than firms would in a purely competitive market. - Source Wikipedia (http://en.wikipedia.org/wiki/Monopoly) As someone stated earlier... Wal-Mart may have low quality stuff, but it is certianly not at a higher price. So again I would have to say that Wal-Mart does not have a monopoly. So my answer to your question is... No. Wal-Mart does not have a monopoly.

• India
16 Feb 07
Walmart or any retailer should not be allowed to monopolize, instead the Govt can bring a regulation that would prevent these retailers under pricing any product beyond a fixed price/percentage and give a fair chance for all to sell.

• United States
9 Feb 07
Let's see --making presecriptins affordable to those of us without insurance...what a novel concept. No one is stopping k-mart or CVS or anyone else from doing the same thing. Why is this a problem. I applaud them. I might be able to get some medication that I need that I have not taken in over a year. I applaud them...they seem to be the only ones trying to do somethng about health costs.

• United States
7 Feb 07
I love Wal Mart and shop there all the time. I save quite a bit of money and I can find everything under one roof. With my busy lifesyle it is great for me! I am not sure if they are monopolizing. But yhey do save me a pretty penny! And save me a lot of time.

• Canada
19 Dec 06
Wal-Mart certainly does monopolize. It's how they got to be where they are today. It's their mission to go into cities and towns and get all the business from everyone else. Is it evil? Well, that depends on whether you think capitalism is evil. Wal-Mart is just doing what capitalism dictates - be the biggest, be the best, and make all the money. I'm not sure if Wal-Mart should be sued for monopolizing the market. I think there are a huge number of other things Wal-Mart could (and should) be sued for first - union busting, unfair treatment of employees, paying slave wages with no benefits to the VAST majority of their employees, etc. Mind you, I don't know if those are sueable offenses (well, I think the union busting is). ~Wyrdsister