Welcome kitties...

Saint Lucia
April 19, 2011 11:05am CST
Hey friends, My darling Twinkle had her kitties this morning.Three cute babies.I cant stop staring because they are so tiny and cute.She gave birth on my clean laundry but thats cool because i was there,asleep but got up in time to see the last one being born. We have named them Star,Diamond(my daughter's choice) and Tweety.Two of them looks like her and the third one is black with white spots.I am hooked and i know we will be keeping them all.I am so proud of her.She has now moved in a corner with her babies as they breast-feed. Its like having babies of my own.My daughter is as excited as i am.We will take good care of them.She is tired and in pain i guess.But she is such a sport.She still lets me caress her,my way of showing her i am here for her.She meows whenever i go near. I am so happy....Such a wonderful experience for me to see them so young and i want to hold them.But we are staying away for now.
3 responses


• Sweden
19 Apr 11
Congratulations, it is so interesting to follow how well a cat mom takes care of her babies. Once my cat had four kittens and got sick for a while, so I had to take care of the kittens. That was a real job.

I was so happy when the mom took over the feeding and washing..

Enjoy the kittens, they are wonderful company..nice names they got!


• India
19 Apr 11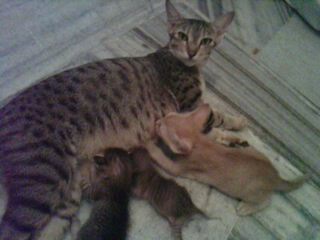 hi, we hav cats too.One of my cat which was in the shelter we made for cats had given birth to kittens and just fifteen days over it changed the place took some of its kittens and left two .My father brought them home as they were crying for its mother.The other cat which we had at home is now taking care of the both kittens ,with its 8 kittens.Total ten are looked after by her.A mother is a mother .,her love is equal to all .