Deer Hunting

United States
9 responses

• France
26 Nov 06
Depends on whether it is for sport or as part of a cull. I have no problems with culling herds where leaving them unchecked would have a negative impact on them, we buy a lot of venison from a local herd that as been killed taht way, but I can't help find something a bit unpleasant about people who like to shoot things purely for fun.

• United States
26 Nov 06
My husband does not go hunting. He never has. He comes from Holland and was amazed that people deer hunt in my state. My brothers hunt, my ex and my sons do to. He doesn't want to take up the sport.

• United States
26 Nov 06
I dont care for deer hunting or any hunting really particularly when its done solely for sport and not the meat..that ticks me off and I really dont care for it now that I have my own land and the damn hunters dont respect our posted signs, the fact that we've told them we dont want them hunting on our property and the fact that our neighbour (who charges them to hunt on his land) has told them to stay off our property....Granted I realize that not all hunters are pigs but the crew aroudn here leaves ALOT to be desired! These guys will make a kill, gut it right there and toss the guts onto our land...they've made a kill and taken only the body and left the head on our land...etc etc and that I have ZERO tolerance for..I cant let my kids play back there or my dogs back there during hunting season because of these guys.....so ya, I'm not fond of it...

• United States
26 Nov 06
I think i do..:D thanks for asking have a nice day

• United States
26 Nov 06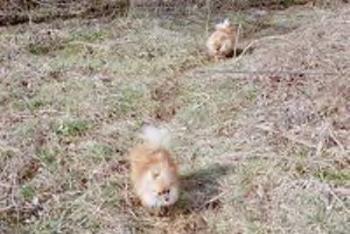 ** Casting Call For Reality TV Hunting SHOW** Casting Call The WHA is taking casting calls for the Newest WHA Hunting Reality T.V. Show GRAND PRIZE: 1 year Pro Staff contract with the WHA and a Spot on a Reality Hunting T.V Show (1 Male Winner and 1 Female Winner) RUNNERS UP: All Finalists will be invited on a world class hunting excursion in 2007. 4 Male Finalists and 4 Female Finalists TO ENTER: All you have to do is submit 4 items: Item One: Casting Call Video. Send us a video clip under 5 minutes on why you should be on a Hunting Reality TV show. Item Two: Article - Submit (1) 1000 word article on the future of the hunting industry Item Three: (1) 300 word hunting tip. Item Four: Submit up to 10 photos of yourself with your best game trophies. Selection: Finalists will be selected at http://www.worldhunt.com/castingcall/index.html Casting Call WHA members will be voting on their top 10 finalists in mid January (5 men) (5 women). The WHA will be selecting the final 2 contestants All Entries Due By January 1st 2007 Voting Begins January 10th, 2007 World Hunting Association http://www.worldhunt.com http://bham.craigslist.org/tfr/235810881.html



• United States
25 Nov 06
Im not a deer hunter but If I had to I would be

• United States
19 Nov 06
my husband goes out. he went out yesterday and today, he also went a few times when it was just bow season. he is the only one in our family that goes out.