Do you know any website that you can make $10 per day easily ?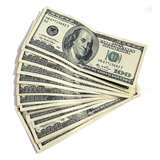 Hong Kong
April 28, 2011 3:55am CST
There are always opportunities in online business.For example, If you can write fast enough, you can always make some money online by writing articles. (I can't write fast and that's why I couldn't earn good money from this kind of job)But to be realistic, making money online is not that easy as many people thought of. Some website required you to do lots of work but you can earn $10 at the end of the month. Some would only give you few cents to clik on their ads or email and waste your time for 30 seconds to a minute. Well, if you know nay website that can make money just for $10 per day easily and practically, plaese share with us and I think that would be a good news for everyone (Of course you know a website which can help you to make more, it would be great). Shar with us.

7 responses

• India
28 Apr 11
I wish it could be that easy to earn $10 in a day, i still think it is quiet farfetched. there was a time when i was very active doing online work but now i have left it and really dont know if it is possible.

•
28 Apr 11
Blog my friend write a blog and increase your blog to a better PR number. No instant income $10 a day directly building a link is the best way to earn great income. If you already do it than you will get $10 a day or even more than $10 a day. coz in the writing site you also need a viewer to read your article. Network is everything, that's what we are looking actually

• Philippines
11 May 11
Hello my Friend, sachii is right. odesk is the one you should take a look and try. YOu can have not only $10 a day but maybe more than that. At odesk you can find different types of jobs, some are simple and others requires more skills and abilities. But for sure you can find one there. Just be patient. I have one job there now and i'm earning a bit more than $10 a day.

• Philippines
11 May 11
Oh I forgot, there's also another site which has the same concept with odesk. Maybe try it too. It's freelancer.com See yah Happy earnings...

• Japan
2 May 11
Hi wildlittlefan! How about trying out on outsourcing jobs like ones from odesk. I think that there are job offers there that pays more than $10 a day. I haven't tried it personally but I have read reviews that outsource jobs are a trend today and mostly pays more. One thing good about it is that you won't be leaving home to work. Happy mylotting!

• Hong Kong
2 May 11
Thank you and I THINK i will take alook for your advice.Happy mylot.


• United States
1 May 11
I've been at this for a while now and I have not found any way that I can make $10 each day easily (however, I wish that I could find something like that so that I wouldn't have to worry so much financially). With that said, I do think that writing is the way to go because as you build up your articles you are able to earn more residually, regardless of how fast you write. I'm personally writing only one article a day, but I do see that my daily revenue is steadily increasing.

• United States
28 Apr 11
I think you could easily make ten bucks a day at somewhere like Associated Content. I average about $5 for a 400 word article, and someone could easily do two or three of those a day.

• Hong Kong
2 May 11
AC Has changed their policy already and they don't pay international memebrs anymore.You can make that much cause you are from USA. wELL, ENJOY YOUR EARNING anyway.


• Hong Kong
28 Apr 11
I think i will take alook on the website you have jsut mentioned in above. I think it is always good to know more.Thank you.