just learned a very good song :)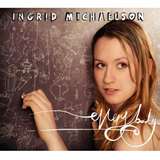 Philippines
May 3, 2011 9:45pm CST
I heard this song in etc while showing the preview of One Tree Hill. It really made me feel positive. In this phase of my life I would really need some inspiration to be able to move on. Please try to listen to "Everybody" by Ingrid Michaelson. It's a very good song I really want to share it. Whenever I hear it I just feel lifted and happy, like I don't have anything to worry about. It's a very positive song. I also listened to some of her songs and she is really a good singer and writer I think, all of her songs sound original. Check it out http://www.youtube.com/watch?v=TlFCfkyuQM0
3 responses

• Philippines
19 May 11
I love Ingrid Michaelson. I have just recently discovered her songs from an online friend. I have almost all of her albums and she's really lovely with a great voice. I love her song The Way I Am and so many other songs. She's really amazing. I just wish I could have that voice. Her songs are very meaningful as well. Very original and very inspiring. I just wish she would be known all over the world just so that people can see how pretty and talented this person really is. Everybody is a great song by the way.

• United States
5 May 11
Music is great, I'm glad you found something you like. Music is one of my favorite things on this planet, it's so mysterious and magical.!

• Philippines
4 May 11
Hi there! I also liked this song..pretty cool right? Thanks for posting it here. I truly appreciate Ingrid Michaelson's music and type of songs. They have Pretty cool lyrics too. Happy light and bubbly songs are indeed uplifting especially when you are feeling down and dreary. :D Actually listening to positive songs is good to the spirit. Music such as this ought to be shared...spread the happy feeling...spread the love...spread inspiration and spread the smiles with good music! Have a good day and happy mylotting!